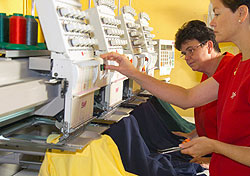 Tampa, FL (PRWEB) September 24, 2012
Entrepreneurs seek out the best business opportunities to invest their working capital to become a successful business owner. ColDesi helps entrepreneurs who are interested in the garment and apparel business to understand this industry and the equipment needed to begin operations.
ColDesi provides important industry information, upcoming tradeshow news, and industry seminars through its website. Entrepreneurs can also find out about the history of embroidery, definitions for the most common embroidery terms, and a multitude of resource articles for people to search for the information they need.
With the proper embroidery education and franchise information offered by ColDesi, entrepreneurs can decide if an embroidery business would be the right investment for them. The entrepreneurs can determine the right equipment they need based on the type of embroidery and garment decorating operations they would like to operate, and what projected sales profits they could possible make in this industry.
About ColDesi Inc.
ColDesi Inc began as a small company once called SWF that offered embroidery products to companies. Changing its name to ColDesi Inc in 1999, as the company expanded to become the leading wholesale supplier and distributor of embroidery machines, Direct To Garment printers, rhinestone cam equipment, and apparel decorating supplies and products. ColDesi works with small embroidery shops and medium-sized apparel decorating businesses to provide the highest quality equipment required. For more information about the ColDesi Inc company, call at 1-877-793-3278. Also visit the company website at http://www.coldesi.com.