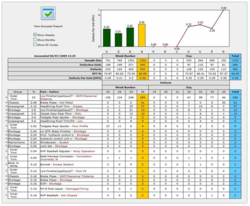 (PRWEB) September 19, 2012
The Interax Group Inc will be introducing the latest version of their FLAGS QIS software at the IBEX EXPO 2012 in Louisville, Kentucky October 2nd – 4th 2012.
FLAGS QIS is currently successfully being used in the automotive, heavy equipment and die casting industries both in Europe and the US to record, track and analyse issues identified during the manufacturing process and also, through the warrantee phase. The system utilizes graphical images and touch screen technology to enable personnel to easily log issues during inspections and tests, and then repair them with two touches on the image. This technology makes travellers and hand written checklists obsolete.
FLAGS QIS software is instantly updated and reported on to raise or close issues on a real time basis. This enables a complete real time picture of the current status of all your boats throughout the facility and also provides benchmark and improvement measures for your Lean Six sigma initiatives. FLAGS QIS also provides a linked-in secure website that allows dealers to log issues via a fully secured web portal, these issues are then fed back into your facility to enable personnel to verify that this issue is not systemic among the production currently in house.
FLAGS QIS also features a full web based reporting suite that is easily customizable by the end user enabling drillable multi layer reports to be provided either via your intranet or emailed on a scheduled basis. As these web reports are real time they can provide accurate feedback of the current status of issues to the front line workers. This capability enables much improved manpower planning and placement and enables you to reduce rework and have absolute control over your work in progress providing a rapid return on investment.
If you wish to find our more please visit our booth 1145 at the IBEX Expo.
Interax Group is the North American representative for FLAGS QIS and Paradigm 3 Document and Compliance Management Software.