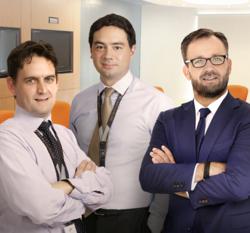 MicroSourcing sees rising demand in Europe for offshoring and outsourcing solutions and feels that a home-turf presence inspires more confidence in the services we provide.
Manila, Philippines (PRWEB) September 21, 2012
MicroSourcing announced the opening of a new sales and customer relationship division in the Netherlands to meet the needs of its growing European client base. European firms are increasingly adopting offshoring strategies and MicroSourcing aims to support these companies in their aim to regain their competitive edge and expand their global reach. MicroSourcing's founders are Dutch and the company is run by a mixed Dutch/Filipino management team so the Netherlands was a natural choice as the location for its European operations. The company has also launched http://www.microsourcing.nl.
"MicroSourcing sees rising demand in Europe for offshoring and outsourcing solutions and feels that a home-turf presence inspires more confidence in the services we provide" said MicroSourcing's CEO, Philip Kooijman. "We will continue to respond to client needs by opening new divisions to allow us to better serve clients in various locations. The Netherlands is a great central location for commerce and home to some of the world's largest chemical and energy companies, financial institutions, pharmaceuticals and manufacturing firms."
As one of the Philippines' leading authorities and early pioneers of offshoring and outsourcing solutions to world-wide small and mid-sized companies, the Dutch division will serve as the hub for the European Region. "We already have a substantial client base in Europe that we until now have been serving from our Manila office," said Robert Chevalier, MicroSourcing's Sales Director for Europe. "Our Dutch office will allow us to serve our clients locally and develop and deliver business regionally."
"We have seen a developing trend for European companies to increase their use of outsourcing and offshoring solutions in order to reduce their cost bases, increase productivity and access skilled labour that would be otherwise difficult to attract locally" said Rafael Verheij, MicroSourcing's Vice-President of Business Development. "There is no longer any doubt in the market as to the effectiveness of labour arbitrage and the need to incorporate this lever into a company's operations strategy."
The Philippines has emerged as a premier choice for offshoring and outsourcing for European companies because the cultural, economic and geographical integration is virtually seamless. With the new division in the Netherlands, MicroSourcing has bridged the geographic gap between the two regions and is able to offer Europeans easy access to a highly skilled, cost-effective workforce in the Philippines.
Founded in 2004, MicroSourcing was a pioneer of the offshoring and outsourcing solutions for small and mid-sized businesses. MicroSourcing continues to grow and serve its clients from offices in Manila, Cebu, Sydney, and other international locations including The Netherlands.
About MicroSourcing:
MicroSourcing is an offshore outsourcing solutions provider which specializes in setting up, hosting and managing operations in the Philippines on behalf of companies from all over the world. Offshoring through MicroSourcing helps clients reduce their costs, increase their operational flexibility and access a talented labor pool.
MicroSourcing's service delivery models are tailor-made to service a wide range of organizational sizes and structures, from entrepreneurs to small and medium-sized businesses and large corporations.
MicroSourcing currently has over 2,000 employees servicing 100 clients from five state-of-the-art delivery centers in the Philippines, which can accommodate the various needs of our global client base.
For more information, visit: http://www.microsourcing.com
SOCIAL MEDIA NETWORKING
Facebook: http://www.facebook.com/MicroSourcing
Twitter: http://www.twitter.com/MicroSourcing
MEDIA CONTACT
Nona Tajanlangit
VP for PR and Marketing
MicroSourcing
Tel: +63 2 437 1000
Mobile: +63 917 517 3825
Email: nona(at)micrrosourcing(dot)com