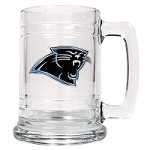 Kick off football season the right way with the help of The Memories Place.
Conway, SC (PRWEB) September 18, 2012
The Memories Place, a company specializing in top-quality photo blankets, canvas prints and other custom gifts, has released a new line of personalized National Football League (NFL) medallion mugs.
Shoppers can personalize the mugs with the NFL team logo of their choice, as well as up to two lines of custom text with 15 characters each. Each mug also features a pewter medallion specially engraved with the football fan's name.
These personalized medallion mugs are officially licensed by the NFL and have the logo of every NFL team available. Each mug is built to hold up to 14 ounces.
"Our new custom mugs make great gifts for avid sports fans," said John Lercari, owner of The Memories Place. "If you're shopping for the football fan who seems to have everything, a personalized mug is a unique gift you won't find anywhere else. Kick off football season the right way with the help of The Memories Place."
Custom medallion mugs also provide some creative team spirit for a game-day party or tailgate. The personalized mugs add flair and fun to any football tradition, and the high-quality designs will have fans fired up long after the game is over.
In addition to its line of personalized medallion mugs, The Memories Place offers customized gifts such as photo blankets, canvas prints, pillows, totes and other unique items. By working only with the finest manufacturers, the company ensures that each customer receives a specialized and supremely crafted item.
"Among our family and friends, we all know that devoted football fan who proudly features his or her favorite team's logo everywhere—on hats, T-shirts, blankets and even license plates—so why not surprise that super-fan with a gift that's one of a kind?" said Lercari. "True fans are sure treasure these unique, custom mugs for years to come."
Personalized medallion mugs start at $32.99, with free shipping on orders greater than $75. The Memories Place accepts all major credit cards and PayPal, and is a ShopWiki-approved store. To learn more, visit http://www.thememoriesplace.com.