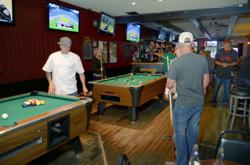 If you love watching the games at at bar, then I highly recommend you come here. Flat screen TVs, sound (for local games), chill vibe, doggies, super nice bartenders.
San Francisco, CA (PRWEB) September 17, 2012
Blackthorn Tavern, the preferred sports bar for diehard football fans in San Francisco, recently announced that from September 2012 until January 2013, it will show all National Football League games on its 14 high-definition televisions. The sports bar also shows UFC (MMA), boxing, college football and Thursday and Monday Night Football. Blackthorn turns up the sound on 49ers games so you can hear the whistles, crowd noise, players and announcers.
"Like all 49ers fans, the Blackthorn Tavern is pumped up for our most anticipated season in more than a decade, said David Zimmerman, co-owner of Blackthorn Tavern. "We look forward to serving you and high-fiving you every touchdown all season long and into the playoffs. Come support your team with your community."
Blackthorn Tavern invites all football fans and their friends and family to come in to the bar on Thursdays, Saturdays, Sundays and Mondays for the NFL Games. The owners say that even if a customer is not a 49ers fan, they can ask the bartender to put their favorite game on one of the televisions. They also have a back patio with a big-screen, high-definition television, heat lamps and tables, where smoking is allowed.
To celebrate football season, Blackthorn Tavern also offers a weekly trivia competition. The competition, which is free to play, begins every Monday night at 9:00 p.m. after Monday night football and offers prizes for all winners. In addition, the bar allows customer to have food delivered from the many area restaurants and offers free WI-fi, so football fan can follow their favorite fantasy football team while at the bar. For complete information about all sports, games, drink discounts and events at Blackthorn Tavern, visit the bar's website at http://blackthorn-sf.com/.
About the company:
Blackthorn Tavern is the ideal location for fans seeking a friendly, affordable bar to watch sports live. Real fans and real San Franciscans patronize Blackthorn. Even those that don't like sports will enjoy hanging out at the Blackthorn.
Located in the ever-exciting Inner Sunset neighborhood at 834 Irving Street and 9th Ave., customers are guaranteed to find all of their favorite teams in one place. Call the Blackthorn Tavern at (415) 523-5973 to see what exciting things they have planned on the calendar like Pool Tournaments, Trivia and Karaoke nights. At Blackthorn, there's always something going on. For more information, please visit their website at http://blackthorn-sf.com.