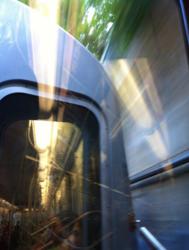 I'm not declaring anything to be the best... just a solid choice.
Brooklyn, NY (PRWEB) September 17, 2012
Taking the concept of shopping locally a step further, a new website – SupportBrooklyn.net – actually showcases places and people of interest in the borough.
"I used to live out West, where in new developments there's hardly anything but national chains," says the site's editor, Jonathan Evans. "So I wanted to create a way to highlight our gems: cool businesses, community organizations and people."
"The are a lot of great review sites out there, but none of them allow you to search specifically for locally-owned businesses. But I'm also not trying to create a review site. Simply, if you're in Bay Ridge, here's a great slice of pizza. I'm not declaring anything to be the best… just a solid choice."
According to Evans there's no cost to be featured and he's open to suggestions. "It's just a matter of me taking the time to visit/learn more. I'm also happy to have other writers contribute."
And he adds, "and everyone can participate by visiting local businesses or hiring local talent."
SupportBrooklyn.net is free to visit, and is sponsored by Evans Brooklyn PR, a creative agency founded by former newswire executive Jonathan Evans.
The borough of Brooklyn, which would be the 4th largest city in America on its own, includes the following neighborhoods: Brooklyn Heights, Brooklyn Navy Yard, Admirals Row, Cadman Plaza, Clinton Hill, Downtown Brooklyn, ATURA, DUMBO, Fort Greene, Fulton Ferry, Prospect Heights, RAMBO, Vinegar Hill, Boerum Hill, Carroll Gardens, CobbleHill, Gowanus, Greenwood Heights, Park Slope, Red Hook, Sunset Park, Windsor Terrace, Bushwick, Wyckoff Heights, Greenpoint, Little Poland, Williamsburg,
East Williamsburg, Bedford, Bedford-Stuyvesant, Beverly Square East, Beverly Square West, Crown Heights, Ditmas Park, East Flatbush, Farragut, Fiske Terrace, Flatbush, Kensington, Ocean Hill, Ocean Parkway, Pigtown, Prospect Lefferts Gardens, Prospect Park South, Stuyvesant Heights, Weeksville, Wingate, Bath Beach, Bay Ridge, Bensonhurst, BoroughPark, Dyker Heights, Fort Hamilton, New Utrecht, Brighton Beach, Chinatown, Coney Island, Gerritsen Beach, Gravesend, Homecrest, Madison, Manhattan Beach, Mapleton, Grays Farm, Midwood, Plum Beach, Sea Gate, Sheepshead Bay, White Sands, Brownsville, Canarsie, City Line, Cypress Hills, East New York, Highland Park, New Lots, Starrett City, Barren Island, Bergen Beach, Flatlands, Georgetown, Marine Park, and Mill Basin.