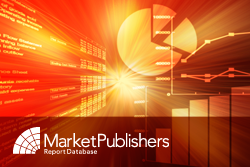 London, UK (PRWEB) September 17, 2012
Increased activity in the exploration and production (E&P) sector will be the primary driver in pushing oil & gas capital expenditure (capex) to $1.039 trillion for 2012.
North America is expected to witness the highest capex globally, with $254.3 billion, representing a share of 24.5% of the 2012 global total. Compared to a global average capex growth rate of 13.4%, North America is expected to witness a capex growth of 15.7%. The increase of unconventional oil and gas activities, especially the continuing exploitation of shale oil and gas sites and the development of Canadian oil sands are the major drivers for these investments.
New research report "Oil & Gas Capital Expenditure Outlook, H1 2012" worked out by GlobalData has been recently published by Market Publishers Ltd.
Report Details:
Title: Oil & Gas Capital Expenditure Outlook, H1 2012
Published: September, 2012
Pages: 44
Price: US$ 3,995.00
http://marketpublishers.com/report/industry/energy/oil-gas-capital-expenditure-outlook-h1-2012.html
The report provides in-depth analysis and unbiased insights into the global oil & gas sector's capital expenditure outlook for 2012, including:

key findings and analyses of capex trends in the oil & gas sector;
oil & gas capex information for 2008–2012;
information and analysis of capex across all oil & gas segments;
information on capex by region: North America, the Asia-Pacific, the Middle East and Africa, Europe and South and Central America;
information on capex by company type;
information on major planned oil & gas projects in the upstream, refining, pipeline, LNG and petrochemicals sectors.
Report Contents:
1 Table of Contents
1.1 1.2 List of Figures
2 Introduction
2.1 Overview
2.2 GlobalData Report Guidance
3 Global Oil and Gas Capital Expenditure Set to Pass $1 Trillion in 2012
3.1 Oil and Gas Capital Expenditure Increased by 13.4% in 2012
3.2 National Oil Companies Continue to Dominate the Increasing Investments from Oil and Gas Companies in 2012
3.3 Petrobras and ExxonMobil plan Oil and Gas Capex of $409 Billion through to 2016
3.4 Onshore E&P Capex Continues to be Higher than Offshore E&P Capex
3.5 Increasing M&A and Asset Transaction Activity in the Oil and Gas Industry
4 Capital Expenditure By Oil and Gas Sector
4.1 Exploration and Production Sector
4.2 Midstream and Downstream Sectors
5 Capital Expenditure by Region
5.1 North America
5.2 Asia-Pacific
5.3 Middle East and Africa
5.4 Europe
5.5 South and Central America
6 Capital Expenditure by Oil and Gas Companies
6.1 National Oil Companies
6.2 Integrated Companies
6.3 Independent Companies
7 Major Planned Oil and Gas Projects in 2012
7.1 Upstream Projects
7.2 Refining Projects
7.3 Pipeline Projects
7.4 LNG Projects
7.5 Petrochemical Projects
7.5.1 Polypropylene Projects
7.5.2 Polyethylene Projects
8 Factors Influencing Oil and Gas Capital Expenditure in 2012
8.1 Average Crude Oil Prices in 2012 expected to be higher than that in 2011
8.2 Increasing Upstream Activities by NOCs and IOCs is a Key Contributor towards 2012 Capital Expenditure
8.3 Increasing Offshore E&P Activities are Leading to Increase in Upstream Capex
9 Appendix
9.1 Market Definition
9.2 Abbreviations
9.3 Sources
9.4 Methodology
9.4.1 Coverage
9.4.2 Secondary Research
9.4.3 Primary Research
9.4.4 Expert Panel Validation
9.5 Contact Us
9.6 Disclaimer
List of Tables
List of Figures
Companies Mentioned
More new research reports by the publisher can be found at GlobalData page.