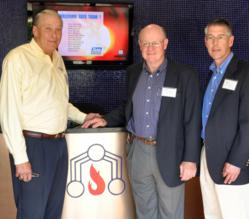 Delanco, NJ (PRWEB) September 18, 2012
Powerhouse Equipment Co., Inc. and Tate Engineering Systems Inc., announced today that a partnership has been created to better serve industrial and commercial boiler customers in the Mid-Atlantic Region. Powerhouse and Tate have agreed on terms for Powerhouse to purchase Tate's entire rental boiler business, including existing equipment, which will be integrated into the Powerhouse Rental Boiler Fleet. Tate will act as Powerhouse's exclusive rental boiler partner in the Region, having access to the entire Powerhouse rental boiler fleet for its existing and future customers. A specialty facility in Richmond, VA will act as the HUB for Powerhouse's Rental Boiler Business in the region.
"We are excited to expand our capabilities to provide a wider range of solutions with this partnership. Customers in Virginia and West Virginia will benefit from the addition of a Rental Terminal in Richmond" says Daniel T. Liscinsky, CEO of Tate Engineering Systems, Inc.
The rental boiler terminal will commence operation immediately with equipment, service and 24/7 emergency support personnel.
"In more than 30 years of being in this business, I have never been more comfortable and optimistic that the partnership will be beneficial to all," said Paul Stohner, President and Owner of Powerhouse Equipment.
More about Powerhouse Equipment
Founded in 1982 and headquarted in Delanco, NJ, Powerhouse is a privately-held, single-family run organization selling quality boiler equipment and offering turn-key boiler service. Powerhouse owns and operates the largest fleet of portable boiler rooms in the world. Additionally, Powerhouse stocks packaged boilers for sale to the global marketplace. Powerhouse is known across the industry for offering the highest quality equipment available. For more information, visit, http://www.powerhouse.com.
More about Tate Engineering
Tate was founded in 1924 and continues today as a full service solution provider for mechanical equipment and systems in the Mid-Atlantic region of the U.S. Tate offers energy savings and green solutions for the mechanicals systems, including boilers, HVAC, air compressors, pumps and filtration systems. Tate has proudly represented the quality line of Cleaver Brooks boilers and other products for decades. Tate's goal is to provide The Right People, The Right Solutions, Right Now! For more information, visit, http://www.tate.com.