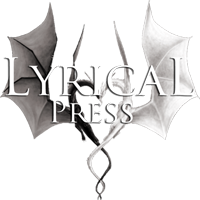 The last twenty-four hours have been mind-blowing
(PRWEB) September 19, 2012
Lyrical Press, Inc., a New Jersey based digital and print publisher, has recently announced the creation of four new lines to their current publishing structure.
http://www.lyricalpress.com/lines.html
These are the first lines for this four-year old publishing house, which focuses on romance and erotic romance. Since announcing the creation of these lines through their social media outlets only yesterday, the publisher has already been flooded with interest from authors eager to submit to Embrace, Hometown Heroes, Vintage and Once Upon.
"The last twenty-four hours have been mind-blowing," Renee Rocco, publisher of Lyrical Press, has said in an interview earlier this morning. "Given the amount of emails I've already received about these lines, we might have to expand our staff and open up more release slots per cycle to accommodate for the submissions we're anticipating."
The first Vintage book, Only Scandal Will Do by Jenna Jaxon, has already released digitally, with the print book available december of this year. All Vintage books will be offered both digitally and in print. Embrace and Hometown Heroes will have select titles going print, but Ms. Rocco has said if these lines are as successful as she hopes, all books from these lines will be available in print as well.
***
Embrace celebrates popular romance tropes such as enemies to lovers, boss/employee to lovers, reformed rake, the millionaire playboy and the love triangle. This line offers readers a fresh take on classic contemporary romance tropes fans of the genre have adored for ages. Embrace titles will be available in ebook, with select titles available in print.
Hometown Heroes focus on small-town romance. Look for character-driven stories with a small town intertwined richly into the very fabric of the plot. Readers can expect such tropes as Best friend's sibling…all grown up, childhood enemies to lovers, the bad-boy next door and just came to town. Hometown Heroes titles will be available in ebook, with select titles available in print.
Once Upon gives readers an erotic twist on fairytales, myths and legends. These works will range from humorous to edgy, with a selected folklore at the core of these atmospheric tales. Once Upon titles will be available in ebook only.
Vintage takes the classic bodice-rippers style romances of the 1980s and 1990s and puts a modern and fresh voice to them. These aren't your mother's period romances. All Vintage titles will be available in ebook and print.
***
Lyrical Press offers readers a rich catalog of titles ranging from tender contemporary romances to edgy erotic paranormals written by some of publishing's brightest talents.
Authors can expect a personalized publishing experience from Lyrical Press. They believe no author should be left behind. At Lyrical Press, an author's career is nurtured. When an author succeeds, the house succeeds.
Lyrical Press provides authors with top-level editing and stellar cover art created by award-winning artists. Authors receive marketing support and creative promotional opportunities. Their business model allows Lyrical Press to welcome exciting new talent, and gives a home to seasoned authors who want a more personal approach to publishing.
With worldwide distribution through the prestigious distributor Ingram, Lyrical Press authors are guaranteed their book will reach readers across the Internet and physical bookstores.
http://www.lyricalpress.com/
http://www.lyricalpress.com/submissions.html
submissions(at)lyricalpress(dot)com