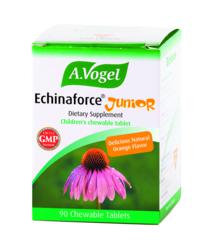 Echinaforce® has an impeccable safety record and its effectiveness has been proven in 9 published studies.
Ghent, NY (PRWEB) September 19, 2012
Better Nutrition, a leading consumer magazine for natural products awarded "Best of Supplements" to Echinaforce® Junior in the kids health category. Echinaforce® Junior supports healthy immune function in children.
In evaluating products for Best of Supplements Better Nutrition asked readers to vote for their favorite supplements (with a contest in the magazine and online/social media push), and also consulted with an advisory board of supplement experts who helped pick the very best of the best in the world of nutritional supplements.
According to Pierce Sioussat, President and CEO of Bioforce USA "you can imagine how excited we are to have Echinaforce® Junior recognized in this way. We know that Echinaforce® is the very best of the best." Echinaforce® has an impeccable safety record and its effectiveness has been proven in 9 published studies, including the largest, placebo controlled, double blind study ever done on Echinacea, which will be published shortly.
Echinaforce® has the efficacy it does because it is made from fresh, organically grown Echinacea, harvested at its peak of potency, processed within 24 hours, preserving the highly volatile alkylamides. In fact, this fresh plant extract contains three times more alkylamides than dried plant extracts. This, along with the certified Pharmaceutical Good Manufacturing Practices ensures the award winning quality and efficacy Echinaforce® is famous for. Sioussat continued "We appreciate this accolade," says Sioussat, "since it has been hard to get the message out that not all Echinacea products are the same. Thank you, Better Nutrition!"
Alkylamides have a tingling or numbing effect on the tongue, which kids may not like. Bioforce developed the technology to encapsulate the alklaymides, without sacrificing any efficacy or bioavailability. This, along with the tasty natural orange flavor, makes Echinaforce Junior appealing to children. And Mom's love that it is certified "tooth friendly."
Echinaforce® is made according to Swiss Pharmaceutical Good Manufacturing Practices (GMP's) and has been used safely and effectively since 1960. Along with the safety factor, consumers are attracted to the documented effectiveness of Echinaforce®. Launched more than 50 years ago, Echinaforce® is still relied upon as the number-one immune-support supplement by families in 30 countries who collectively consumed more than three billion doses! Bioforce® AG, the family company that manufactures Echinaforce®, has also invested in nine research studies to prove its active value in supporting immune health when exposed to environmental challenges. Bioforce® researchers are distinguished in that they also were the first to identify how Echinacea alkylamides actually work in the human body to bolster immune function.
About Bioforce USA
Bioforce USA has created long-term strategic alliances with European manufacturers of product lines that have years of clinical research support for safety and efficacy, plus years of repeat consumer use. Bioforce USA has brought these lines, which include A. Vogel, Sanhelios, Herbatint, Bionorica, SECURE, Bekunis and now Annemarie Borlind, including Dado Sens exclusively to the United States for distribution through natural products and health food stores.
For more information call Eileen Sheets at 800-641-7555 x100 or esheets(at)bioforceusa(dot)com