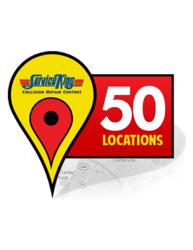 "Reaching 50 Locations in Texas marks a major milestone as we embark on our plans to grow the company nationally," said Jeremy Lennox, VP of South Texas
Georgetown, TX (PRWEB) September 18, 2012
Service King Collision Repair Centers, a Texas-based operator of high-quality collision repair facilities in the San Antonio, Austin, Houston, and Dallas-Ft. Worth markets, announced they have completed the purchase of Express Autobody, a collision repair center headquartered in Georgetown, Texas. The transaction is expected to close before October 1st.
Express Autobody becomes Service King's 50th location in Texas, and their 6th collision center in the Austin marketplace. It is located off I-35 & Westinghouse Rd. at 300 County Road 111, Georgetown, Texas. Service King, one of the fastest-growing multi-shop collision operators in the United States, is also building a new collision repair center in Lakeway, Texas on Highway 620 that will be completed and open in early 2013.
Express Autobody is an 18,000 square foot state of the art facility capable of repairing over 300 vehicles per month and currently employs 16 people. This facility will join Service King's South Texas market that employs over 321 people throughout Austin and San Antonio. The Georgetown location will be managed by David Schwartz. This facility has Enterprise rental cars on-site, and uses waterborne paint on all vehicles, a cleaner alternative to traditional solvent paints. Operating business hours are Monday to Friday 7am-6pm and Saturdays 9am-1pm.
Jeremy Lennox, Vice President of Service King's South Texas Market stated, "Georgetown is a growing area and we look forward to serving the needs of customers and insurance partners by providing the best service and collision repairs in town. We're eager to provide Service King's renowned level of friendly and professional customer service. The quality of work by highly skilled and expertly trained body technicians and painters carries a lifetime guarantee. We are also bringing top-notch health, retirement, and career benefits to all Georgetown teammates."
Service King Collision Repair Centers was founded 36 years ago by Eddie Lennox, with one location in Dallas, Texas. The Carlyle Group bought a majority stake in Richardson-based Service King last month, providing the capital necessary to grow nationally. Now, with 23 Dallas-Fort Worth locations, 12 Houston locations, 9 San Antonio, and 6 Austin, Texas locations, Service King recently announced national expansion plans to acquire eight collision centers in Arizona by next month.
For more information about Service King, visit http://www.ServiceKing.com. Follow Service King's news on Facebook and Twitter.
About The Carlyle Group
The Carlyle Group is a global alternative asset manager with approximately $156 billion of assets under management across 99 funds and 63 fund of fund vehicles as of June 30, 2012. Carlyle's purpose is to invest wisely and create value. Carlyle invests across four segments – Corporate Private Equity, Real Assets, Global Market Strategies and Fund of Funds Solutions – in Africa, Asia, Australia, Europe, the Middle East, North America and South America. Carlyle has developed expertise in various industries, including: aerospace, defense & government services, consumer & retail, energy, financial services, healthcare, industrial, technology & business services, telecommunications & media and transportation. The Carlyle Group employs approximately 1,300 people in 32 offices across six continents.
Media Contact: Eric Kirk, Communications Manager, 214-717-7233, eric.kirk(at)serviceking(dot)com