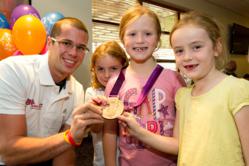 (PRWEB UK) 17 September 2012
Youngsters at David Lloyd Hampton were given the opportunity to meet their Olympic hero, rower James Foad, yesterday (Sunday, September 16).
James, who is a member at the club in Staines Road, Hampton, South West London, won a bronze as part of the Team GB men's eight rowing crew, and delighted youngsters by bringing along his medal for all to see and touch.
"It was wonderful meeting so many children at David Lloyd Hampton whom I think have been really inspired by these Olympics and Paralympics, and it was amazing to witness their genuine excitement at being able to touch an Olympic medal!" said James.
"I'm really proud to have been part of London 2012, which I hope will now encourage a whole new generation to take up a sport."
James, who also has two World Championship silver medals, trains regularly at the club through the British Olympic Association's Passport Scheme giving athletes access to David Lloyd Leisure clubs as part of its Team Family initiative*.
James - who was one of 36 David Lloyd athletes selected for Team GB and Paralympics GB, with almost a third winning a medal - used the facilities at David Lloyd Hampton in the build-up to the Games for training and rehabilitation for a back injury. He is now awaiting surgery to repair two bulging back discs.
"I would like to thank David Lloyd Hampton for all the support they have given me, especially during last winter when I used the club for most of my rehabilitation for my recurring back injury," he added. "I'll be spending a lot of time there now as part of my recovery from surgery and hope to get back to peak condition as soon as possible."
General manager Sue Moss said: "James' visit was the icing on the cake for everyone at the club who has been caught up in the spirit of the Games - I have never seen so many excited faces! We are incredibly proud to have James at David Lloyd Hampton - an Olympic hero who is a true inspiration to us all - and look forward to continuing to support him in his rowing achievements."
ENDS
Note to editors: To interview James Foad or for more information about this press release, contact the David Lloyd Leisure press office on 01707 289833 or email press(at)davidlloyd(dot)co(dot)uk.
About David Lloyd Leisure Group
The David Lloyd Leisure Group operates 80 clubs in the UK and a further 10 clubs across Europe.
David Lloyd Leisure has over 450,000 members and employs 6,000 people. This includes an expert health and fitness team of over 1,800, while it contracts the services of more than 400 tennis professionals.
Across all clubs, David Lloyd Leisure has over 150 swimming pools (of which half are indoor) and offers over 10,000 exercise classes per week. Every week 20,000 children learn to swim at David Lloyd Leisure and 14,000 learn to play tennis. Its racquets facilities are unparalleled with 700 tennis courts as well as 180 badminton courts and 140 squash courts. Additional facilities include health and beauty spas, club lounges with free internet access, crèches, nurseries and specialist sports shops.
About Team Family
Working with the British Olympic Association, David Lloyd Leisure provides complimentary use of its clubs to eligible athletes under the Passport Scheme, as part of its Team Family initiative.
This is aimed at giving the whole family easier access to sport and exercise, including providing family-friendly facilities and a wide range of sporting and exercise programmes specific to age groups and ability levels.
With 2012 being a massive year of sport, our athletes are an inspiration to everyone to get involved – whether it's taking up a new sport or achieving a personal health and fitness goal