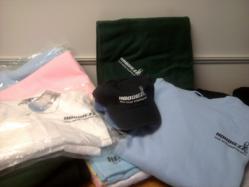 A donation of $1 can get you Hoodiezz.com hoodies, blankets, hats, polos and T-shirts.
Walpole, MA (PRWEB) September 18, 2012
Hoodiezz.com, an online comparison shopping mall, has developed the "Hoodiezz.com Avatar". This technology will allow their visitors to build a virtual clothing avatar of themselves based off of height, weight, and other descriptive features. Once visitors customize their avatar they will then be able to try on clothing and mix and match outfits from the various retail websites that can be shopped on Hoodiezz.com.
In efforts to fund the full development of their technology, and have it ready for public use before the Christmas shopping season. Hoodiezz.com is running an online fundraising sweepstakes on the fundraising site Indiegogo.com. Hoodiezz.com has a series of prizes for different sized donations, but their main draw is that "A Donation of $1 can get you Hoodiezz.com Hoodies, Blankets, Hats, Polos and T-shirts. $500 dollars worth of Hoodiezz.com apparel just in time for the colder weather".
Since the Christmas shopping season is quickly creeping up on us. The Hoodiezz.com fund raiser ends Saturday September 22nd at 11:59 pm Eastern Time. To help change the future of online comparison shopping, and have a chance to win $500 dollars in clothing visit Hoodiezz.com's Fund Raising page today and donate your dollar.
Hoodiezz.com was created by two college students and life long friends. Their intent was to help create an easier and more enjoyable shopping experience for their visitors. Hoodiezz.com is now affiliated with more than 50 very well known retailing websites, and is poised to become one of the fastest growing online comparison shopping websites in the world.