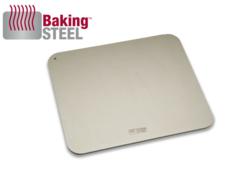 "I was extremely happy with our success on Kickstarter," said Lagsdin, "one because it proved the validity of our product but most importantly, it allowed us to start our relationship with The Greater Boston Food Bank with a sizable donation which will be
Hanover, MA. (PRWEB) September 18, 2012
Stoughton Steel knows that hunger hurts. That's why they've chosen to become an involved sponsor of The Greater Boston Food Bank's (GBFB's) mission to end hunger in eastern Massachusetts. "We are excited by our new partnership with Stoughton Steel," said Carrie Clark, Manager of Corporate Relations at The Greater Boston Food Bank. "Everyone has a role in ending hunger in our community, and Stoughton Steel is playing their's by donating a portion of proceeds from the Baking Steel to GBFB, and helping teach children in our community how to make healthy food choices."
The Baking Steel is a 1/4" steel plate designed specifically with the home pizza cook in mind. It measures 16x14 which fits most standard home ovens and barbeque grills and other custom sizes are also available. Touted as the "next best thing" for home cooks, it is used to create Neopolitan and New York style pizzas as well as artisan breads. Recently launched on Kickstarter, the Baking Steel surpassed it's initial funding goal by more than 1200%. It is now available for pre-order at http://stoughtonsteel.com/shop/baking-steel/.
With every sale of the Baking Steel, Stoughton Steel will donate a portion of the profit to the GBFB to help with its hunger relief efforts. "Not only can you enjoy the Baking Steel with your own family," said Baking Steel creator, Andris Lagsdin, "you can also be proud knowing that your purchase in turn helps another family by providing meals that may not otherwise be available. Every little bit counts, so I feel it's important to give back what we can - no one should have to go hungry!"
Coming off their recently successful Kickstarter campaign, Stoughton Steel will be able to donate funds that will be applied towards more than 4,000 meals. "I was extremely happy with our success on Kickstarter," said Lagsdin, "one because it proved the validity of our product but most importantly, it allowed us to start our relationship with The Greater Boston Food Bank with a sizable donation which will be used to help many families in need. That is something I'm most proud of."
Through this donation, the Baking Steel team hopes to make an impact on the GBFB's Kids Cafe Program, a program that feeds close to 1,500 children per day, five days a week. Kids Cafe not only feeds children, but also teaches them about food, eating healthy and how to make better food choices for living healthier lives. "The Baking Steel is a product that we can bring to Kids Cafe sites for a learning module on healthy pizza-making," said Lagsdin. "We can use this as a tool to help kids to get the nutrients they need in a manner most will enjoy."
To purchase a Baking Steel and help support The Greater Boston Food Bank, please visit http://stoughtonsteel.com/shop/baking-steel/
# # #
About Stoughton Steel
Stoughton Steel, located in Hanover, MA is family-owned, and has been in the steel business for more than 35 years. They proudly design and manufacture heavy-duty products for industry giants such as Caterpillar, Volvo, JCB and New Holland, among others. They are ISO certified, allowing them to ensure management processes/procedures that exceed their customers' expectations while also providing products and services that are safe, reliable and of excellent quality. The Baking Steel is Stoughton Steel's first product designed for the home-product consumer. To learn more about Stoughton Steel, please visit stoughtonsteel.com or call us at 781.826.6496.
About The Greater Boston Food Bank
The Greater Boston Food Bank (GBFB) is the largest hunger-relief organization in New England and among the largest food banks in the country. GBFB distributes nearly 40 million pounds of food and grocery products annually to 550 member hunger-relief agencies and more than 30 direct service programs throughout eastern Massachusetts in a dedicated partnership to end hunger in our region. This provides meals for as many as 545,000 people a year. GBFB is a member of Feeding America, the nation's food bank network. For more information, visit us at GBFB.org, become a fan on Facebook, follow us on Twitter (@gr8bosfoodbank), or call us at 617.427.5200.