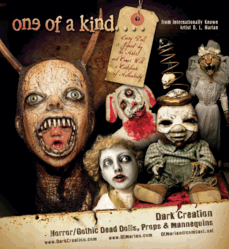 There is no better Macabre art
(PRWEB) September 19, 2012
Renninger's Antiques & Collectors Extravaganza will be held September 27 -29 at Renninger's Antiques & Farmers Market in Kutztown, Pa. Hundreds of exhibitors will be selling antiques & collectibles outdoors and under large pavilions. In the indoor Antiques Market The White Room will be the location of The Halloween Show. The show will feature internationally known artist Donna Marian of Dark Creation. Donna's unique macabre art has been purchased by collectors from all over the world. All "one of a kind" pieces Donna brings a style to macabre art that one must see in person. She creates horror Gothic Dead dolls, props, art, life size figures, and many other unique pieces. Donna's work has been featured in on TRUTV's "Storage Hunters". She will have 4 of her pieces displayed at Universal Studios Halloween 2012 in Singapore. She recently finished the cover art for a book of Patience Worth's words by Keith Ringkamp. Available thru Amazon Books. One of her works was included in the Book "Vampire Art Now" by Jasmine Beckett- Griffith. Her "Steampunk Annie" was the cover photo for "13th Hour Magazine." She also did the cover art for Heather Lore's Novel " The Watersnake Road." She was honored and received the" FRIGHT TIMES AWARD" at the 2011 National Haunters, Halloween & Hearse Convention. Donna's work frequently sells as soon as it is finished. She has agreed to create artwork for exclusive sale at The Halloween Show at Renningers . Collectors are advised to arrive at opening. Donna's Studio is in nearby Bucks County, Pa. View Donna's work at DarkCreation.com.
Joining Donna are other very talented artists with very different work.
Dorothea Fitzgerald's of a "Passion for Santa's" work has been seen in Better Homes and Gardens, Santa Claus Magazine, Early American Life Gallery of top Craftsmen, and Dolls of Diversity Calendar as well as Americas top Craftsmen Catalog. Currently she does a few select juried shows and designs for a major interior design company.
Meri Greenleaf of "Elfling Creations" is an artist from West Chester, PA. She works in chainmaille, crochet and clay to create fantasy-inspired art and accessories including jewelry, chainmaille, runestones, and costume accessories. Her art has been featured on various sites around the internet and in a magazine.
Teonova Leather Masks features fine handcrafted leather masks by artisan Caroline Guyer of New Hope, PA. Caroline has been crafting leather masks for over a decade and lately has been specializing in animal masks, from rabbits and goats to dogs and monkeys and more...and always a few interesting abstracts with styles ranging from gothic to whimsical. Teonova masks have been seen on HBO, an Absolut Greyhound commercial, and in numerous music videos. http://www.teonova.com
Jacqueline Hay an Art Teacher/Artist from Newtown, Pa creates little creatures, concentrating on Halloween.
Nuria Chicken of "Fairies by Nuria" from Allentown, Pa. has a passion for making fairies out of polymer clay.
The Halloween Show is Friday September 28 & Saturday September 29, 9 to 3 in The White Room of Renningers indoor Antiques Market. Admission to the Halloween Show is Free.
Renningers Antiques Extravaganza is Thursday September 27, 10 to 4 Admission $15.00. Friday September 28, 8 to 4 Admission $6.00 Saturday September 29, 8 to 4 Admission $4.00. Also open Friday & Saturday are the indoor antiques market and farmers market 8 to 4. The address of Renningers is 740 Noble Street Kutztown, Pa. Find out more at http://www.renningers.com Ph. Mon thru Thurs. 570-385-0104 Fri. and Sat. & during the show 610-683-6848.