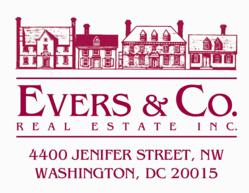 We are seeing a tremendous shortage of inventory, which is something a lot of people didn't foresee at all at this time in the housing market"-Donna Evers
Washington, D.C. (PRWEB) September 17, 2012
The residential real estate market remained strong through the end of the summer in the close-in Washington, D.C. area, with home sales numbers up 6.4 percent in August compared to August 2011 and days on the market down 20 percent. While August sales contracts rose to their highest levels in three years, the dollar volume of sales was down 57 percent from the peak of the housing market in 2005 which reflects the very low inventory of properties for sale.
"We are seeing a tremendous shortage of inventory, which is something a lot of people didn't foresee at all at this time in the housing market," says Donna Evers, Evers & Co. Real Estate President and Broker. "This incredible shortage in product results in pushing prices upward and creating competitive, multiple bidding situations for buyers in popular Washington, D.C. metropolitan area neighborhoods."
For property owners who are considering listing their property in this sellers' market, the process can be done fairly quickly says Evers. If sellers have expert help in getting their homes ready for market, it can take between one to four weeks to list, with four weeks being the longer timeframe to make bigger improvements like replacing kitchen countertops or refinishing floors. Evers also noted that properties that show well and are priced correctly in sought-after locations in Washington, D.C., Northern Virginia and Montgomery County, Md. are regularly receiving multiple offers.
Evers reiterates this is still a great time for buyers with the continuing record-low interest rates that dramatically affect the overall cost of home loans buyers need to understand the significant difference between borrowing at four percent versus rates at eight percent and higher in factoring the true cost of the loan and not just focus on the sales price of a property.
"For most buyers, eighty percent of what you buy when purchasing a property is borrowed money, which is most of the purchase price, and has to be a very big factor when you are contemplating whether or not you want to buy now," says Evers. "While sales prices are starting to rise, they haven't risen to their zenith and with such low rates, now is the time to buy and people shouldn't wait."

About Evers & Co.
Founded in 1985 by Donna Evers, Evers & Co. Real Estate maintains its success through a strong referral base and agents who enjoy a premier reputation for their expertise and in-depth knowledge of Washington Metro Area homes and neighborhoods. Evers & Co. is home to 100 licensed real estate professionals with decades of combined experience, who enjoy access to a first-of-its-kind Agent Resource Center. The agency is the largest woman-owned and-operated residential real estate firm in the area and a member of Unique Homes Affiliate Network, Who's Who in Luxury Real Estate and FIABCI, the largest international real estate organization in the world. In addition, the agency has an alliance with My Home In Paris, a residential real estate firm in Paris, France. For more information about Evers & Co. Real Estate, visit http://www.eversco.com.
# # #