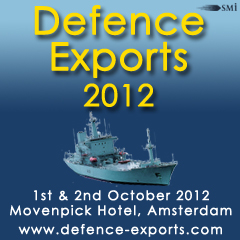 Europe's leading conference for senior export control professionals
London (PRWEB UK) 19 September 2012
SMi's 7th annual Defence Exports conference, Europe's leading conference for senior export control professionals takes place in only two weeks time. This highly anticipated event will bring together key Government speakers and industry leaders from the U.S, Europe and APAC countries to examine the latest updates on international export control regulations. There are limited places remaining so make sure you secure your seat today.
Delegates will have the chance to:

Gain valuable information from officials of the U.S. Department of State, U.S. Department of Commerce, U.S. Department of Defense, and the newly formed Export Enforcement Coordination Center (E2C2) on the current developments in US Export Reforms and plans for the future.
Hear from the European Commission and the European External Action Service's EU Council Working Party on Conventional Arms Exports (COARM) on Common Position 2008/944/CFSP on the control of export of defence equipment and technology and the Transfers Directive.
Listen to presentations from EU member states such as the UK, Germany, Italy, Spain and The Netherlands and international countries such as Turkey and Israel and analyse global developments between friendly countries.
Expert speaker line-up includes:
Kevin Maloney, Director Licensing's, Defence Trade Controls, U.S. Department of State
Matthew Borman, Deputy Assistant Secretary for Export Administration, US Department of Commerce
Timothy Hoffman, Deputy Director of the Defense Technology Security Administration, US Department of Defense
Gary Stanley, President, Global Legal Services
Meir Shalit, Director of Defence Export Control, Ministry of Defence Israel
Lutfi Varoglu, Head of International Cooperation, Under-Secretariat for Defence Industries SSM, Turkey
Iciar Rodriguez Miranda, DG Enterprise, European Commission
Theo Peters, Head of Non-Proliferation, Disarmament, Arms Control and Export Control Policy Division, Ministry of Foreign Affairs
Henrik Petersson, Vice President Export Compliance, Saab AB
In addition attend a pre-conference workshop on:
Automated Global Trade Compliance and Export Systems
Led by OCR Services
Visit http://www.defence-exports.com to book your place. Alternatively, contact Teri Arri: +44 (0) 20 7827 6162 / tarri(at)smi-online(dot)co(dot)uk
About SMi Group
Defence Exports 2012 is just one of the many conferences that are a part of the SMi Group portfolio. The SMi Group is a world leader in business to business information. With nearly two decades in the business, thousands of senior executives from blue chip companies have already benefitted from SMi's highly targeted conferences, workshops and publications. For more information, visit http://www.smi-online.co.uk.
For further information, contact:
Teri Arri
Tel: +44 (0) 20 7827 6162
Email: tarri(at)smi-online(dot)co(dot)uk