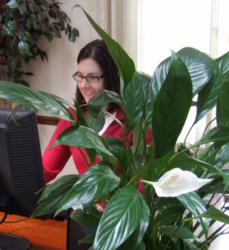 We like to say that the 'oxygen arrives when the plants do'.
Miami, FL (PRWEB) September 19, 2012
As we head into cooler weather and spend more time indoors, indoor air quality is an important, yet little understood issue that affects the health and well-being of millions.
Join the national effort for cleaner, fresher indoor air in our homes, schools and workplaces and support National Indoor Plant Week and Costa Farms' national grassroots campaign, 'O2 for You': Houseplants with a Purpose, on September 16-22, 2012.
This week-long initiative was created to raise awareness on the value and benefits of live indoor houseplants. They're more than just a pretty face; they're our "green heroes"!
Event founder Mark Martin, from Interior Tropical Gardens, says, "We like to say that the 'oxygen arrives when the plants do.'"
'O2 for You': Houseplants with a Purpose has been spreading awareness since 2008 on how live houseplants can cleanse indoor air from chemical pollutants (volatile organic compounds) emitted from products and materials found in our homes and offices.
Besides removing carbon dioxide and giving back oxygen, emerging research indicates that certain varieties of indoor houseplants work best to help cleanse interior spaces of indoor pollutants and improve productivity in workplaces where people spend most of their time.
Plus, studies from the US Environmental Protection Agency (USEPA) have found that levels of indoor air pollution can be 2 to 5 times higher - and in some cases 10 times more polluted than outdoor air! And since most people spend about 90 percent of time indoors, these findings are particularly alarming.
This is where nature's natural air purifiers take center stage. Working 24/7, certain plants absorb almost all volatile organic compounds (VOC's) in indoor air. These toxic VOC's are common chemicals like ammonia, formaldehyde and benzene emitted from products commonly found in homes and offices like carpets, printer ink, tobacco smoke and cleaning products.
During National Indoor Plant Week and throughout the month of September, indoor houseplants such as peace lilies, ferns and spider plants with bright 'O2 for You' plant tags are available at local retailers, with plant care info that makes it easy to reap the benefits from these hard working plants.
Throughout the week, people are encouraged to use social media to share messages about the many benefits of indoor plants and how they not only cleanse our indoor spaces but help reduce stress, as they brighten up any room with beautiful foliage and color.
For more information on National Indoor Plant Week visit http://www.nationalindoorplantweek.com. To learn more about 'O2 for You': Houseplants with a Purpose, visit http://www.o2foryou.org.