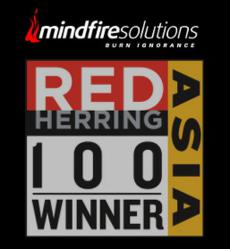 Mindfire Solutions is a successful entrepreneurial venture. It should be proud of its accomplishment, as the competition was the strongest it has ever been". Alex Vieux, CEO Red Herring.
Hong Kong (PRWEB) September 18, 2012
Red Herring, a global media company which unites the world's best technology innovators, investors & decision makers, announced Mindfire Solutions (http://www.mindfiresolutions.com), global IT Services provider to Small & Medium businesses worldwide, as winner in 2012 Red Herring Top 100 Asia Awards at the awards ceremony held in Hong Kong.
Since 1996, technology industry executives, investors, and strategists have valued the Red Herring 100 lists as an instrument for discovering and advocating the most promising private ventures from around the world. This award has become a mark of distinction for identifying promising new companies and entrepreneurs.
"Choosing the companies with the strongest potential was by no means a small feat," said Alex Vieux, publisher and CEO of Red Herring. "After rigorous contemplation and discussion, we narrowed our list down from hundreds of candidates from across Asia to the Top 100 Winners. We believe Mindfire Solutions embodies the vision, drive and innovation that define a successful entrepreneurial venture. Mindfire Solutions should be proud of its accomplishment, as the competition was the strongest it has ever been".
Chinmoy Panda, President & CEO, Mindfire Solutions, said, "Making it to the Red Herring Top 100 Asia is a matter of pride for us - it is international recognition of our strengths & capabilities. The award is a validation of our beliefs & vision in assisting global SMBs. The shifting business landscape is proving encouraging to SMBs and we are perfectly positioned to serve their agile software application development needs in all technology platforms including the niche and emerging technologies such as mobile, web, social media, analytics and testing".
The Red Herring 100 award highlights the exciting start-ups from Asia, Europe and the Americas. Hundreds of companies from each region are reviewed in a rigorous 3-step process that looks at all aspects of the company on both quantitative and qualitative criteria such as financial performance, technology innovation, management quality, strategy, and market penetration. This assessment of potential is complemented by a review of the track record and standing of start-ups relative to their peers, allowing Red Herring to see past the "buzz" and make the list a valuable instrument of discovery and advocacy for the most promising new business models in Asia.
Inclusion in Red Herring's comprehensive rating as 2012 Red Herring Top 100 Asia lays the foundation for Mindfire's next level of growth. This definitely reaffirms Mindfire Solutions' commitment to quality and customer delight and also acknowledges Mindfire's efforts in aligning
its internal systems and processes to suit the business operations of small and medium businesses.
About Mindfire Solutions:
Mindfire Solutions is amongst the leading providers of Software & IT services encompassing development and delivery of complex projects for enhancing business growth of its customers. Mindfire has added value to more than 250 clients in US, Europe, Africa, Australia and Asia in the 12 years of its operations. The company has over 700 people, spread across 3 Advanced Development Centers (ADCs) in India which are equipped with ultra modern facilities, and where Mindfireans strive round the clock for achieving customer delight. For more information on Mindfire Solutions, please visit http://www.mindfiresolutions.com
About Red Herring:
Red Herring is a global media company which unites the world's best high technology innovators, venture investors and business decision makers in a variety of forums: a leading innovation magazine, an online daily technology news service, technology newsletters and major events for technology leaders around the globe. Red Herring provides an insider's access to the global innovation economy, featuring unparalleled insights on the emerging technologies driving the economy.