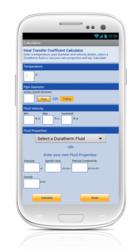 We wanted to put these tools in the hands of engineers, wherever they may be.
Lewsiton, N.Y. (PRWEB) September 19, 2012
Duratherm has long been a leading resource of tools for research on thermal fluids. Now, many of the same comparison tools and calculators found on their website are also available for popular mobile platforms.
Duratherm's new mobile app - an industry first - allows you to compare fluid properties, find the ideal Duratherm thermal fluid or perform on-the-spot heat transfer calculations. Developed by Kadabby, the app is available for both the iPhone and Android devices and it's free of charge.
"We've developed a lot of tools for use on our website but in keeping up with current technology we wanted to put these tools in the hands of engineers, wherever they may be," said Michael Bates, Duratherm's Technical Director.
The new mobile app gives engineers another way to access many of the tools and resources that have made Duratherm the industry's leading provider of technical expertise. The company has developed a steady stream of features for its website in recent years, including a popular heat transfer coefficient calculator, an engineering comparison utility and a series of technical whitepapers that are all offered free of charge.
Duratherm has been servicing the heat transfer fluid industry worldwide for over 25 years. They specialize in quality, effective and innovative products ranging from heat transfer fluid and related products, to thermal oils, thermic fluids and specialized lubricants. Working closely with equipment manufacturers and their customers, they have an intimate and unrivaled understanding of real world concerns for heat transfer fluids.