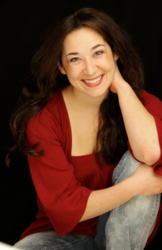 "Dialects are great tools to keep actors versatile. The wider the range of skills the better."

- Nathan Cooper, Artistic Director
Baltimore, MD (PRWEB) September 18, 2012
Actor and professor Rachel Hirshorn is bringing her skills and background in dialect work to Single Carrot Theatre. HIrshorn is a graduate of UMBC and went on to receive an MFA in Acting from the University of Missouri at Kansas City. Her education and talent are welcome at Single Carrot, where the theatre is always trying to bring in exciting instructors to add to their roster.
Last season at Single Carrot brought the likes of Bruce Nelson and Lewis Shaw teaching Improv and Stage Combat, respectively. "Variety in our programming is important to us," said Artistic Director Nathan Cooper, "We feel the same sense of excitement and diversity that we look for in a season should be present in our classes and workshops."
Hirshorn agrees with the sentiment, and is excited to explore with the company. She believes in the power of voice, inflection, and dialect not merely on an auditory level, but what those aspects say about a character and their background. "There exists, within every single accent and individual sound formation, a story of the 'formation' of the sound itself," she said. "It is the tale of 'how' and 'why' we speak the way we do...and the factors that contribute to it are limitless and continuously mind-blowing," said Hirshorn
Dialects with Rachel Hirshorn will take place on Saturday, September 22 from 9:30 am to 12:30 pm at Greater Homewood Community Corporation, located at 3503 N Charles St, Baltimore, MD 21218 accross the street from the Johns Hopkins Tennis Courts. Registration is $25 and can be obtained only through the website at https://sct.tixato.com/buy/dialects-with-rachel-hirshorn/09-22-20120930am.
The rest of the season at Single Carrot Theatre offers one-day workshops in beginning acting, audition techniques and stand-up comedy. To register for future workshops visit singlecarrot.com.
Visit http://www.rachelhirshorn.com for more on Rachel Hirshorn.