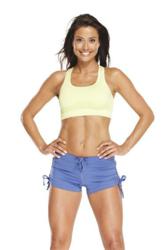 This range is for serious fitness buffs who need more from their nutrition so they get the most out of their efforts in the gym. They just happen to be women. - Daniel Herman
London (PRWEB UK) 19 September 2012
The popular new women's nutrition range Active Woman is now available in Holland&Barrett and GNC stores across the nation.
The Active Woman series, which features protein shakes, recovery drinks, and slimming aids for women who exercise regularly, was developed by UK nutrition specialists Bio-Synergy.
"We're absolutely delighted to bring Active Woman to a wider audience of athletic women," said Daniel Herman, MD of Bio-Synergy. "This is just further evidence that women have been underserved by the market and are responding enthusiastically to smart nutrition that meets their high expectations."
The range is a new offering in the women's fitness arena that has typically been resistant to nutrition because of the macho stereotypes of bodybuilding. Over 60% of gym-goers are women, but less than 1% regularly buy sports nutrition.
Active Woman brings a level of attitude, accessibility, and quality to the market that has seen it quickly develop a loyal following.
"We're not taking a girly approach to nutrition," said Daniel Herman. "This range is for serious fitness buffs who need more from their nutrition so they get the most out of their efforts in the gym. They just happen to be women."
Products like Activate, a pre-workout protein shake, are made with premium protein blends that top out many of their mass-market male counterparts in quality and concentration. Additionally, they include a complete range of B vitamins, folic acid, and minerals that cater to the specific needs of female bodies.
The range was developed with the help of TV presenter Melanie Sykes, who at 42 has maintained her enviable figure by hitting the gym and taking her nutrition seriously.
"Over the past couple of years, I have become a serious gym bunny and am far more aware of the importance of a proper nutrition regime," said Melanie. "Working with Bio-Synergy on a range for women who, like me, are serious about working out has been really exciting."
"I would happily recommend the range to anyone who wants to get the best out of their workout and help maintain a healthy regime. And the shakes taste yummy!"
The entire range will feature the following products:

Activate: a pre-workout protein shake with green tea (450g)
Revitalise: an isotonic drink mix with a complete selection of vitamins and minerals (450g)
Refuel: a post-workout protein/complex carb shake (450g)
Define: slimming capsules that help improve your metabolism (60 caps)
Refine: slimming capsules that target cellulite and fat deposits (60 caps)