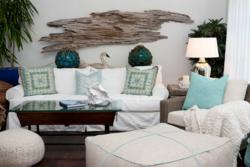 The Coastal Home blog travels coast-to-coast, sharing daily experiences and love of all things sea-inspired.
Vero Beach, FL (PRWEB) September 18, 2012
Slip-covered furniture on-line retailer, Our Boat House, specializes in Coastal Style, just announced the re-launch of their new blog - "Coastal Home"- where they will take the reader to a place that reminds them of their favorite summer vacations and offer helpful tips, inspiration, and ideas that will bring the coastal living experiences to the reader wherever they might reside. The Coastal Home blog travels coast-to-coast, sharing daily experiences and love of all things sea-inspired.
Here is a list of the post titles accompanied by the day in which they will be posted and a short description.
Monday:
"Spotted from the Crow's-nest: Beach House Tour"-Every Monday the blog will share a new nautical beach house that has caught their eye. This post will take the reader through the décor and illustrate just what makes the particular house so special.
Tuesday:
"Style Starboard: Designer Tips"- This post will choose a certain room or design technique that will vary from week to week and take the reader through the process of completing the room or mastering the specific design tactic.
"From the Masthead: Rooms with a View"- Similar to the beach house tour, this post will share a special nautical room that overlooks a breathtaking setting, bringing paradise to the reader's computer.
Wednesday:
"How To"- This post will share how to create and incorporate the feeling of the sea within a particular space.
"Style Starboard: Round Up"- A round up of design tips, fashion, and the latest interior trends with a common theme.
Thursday:
"Inspiration on the Horizon"- After scouring the design literature around the globe, the blog's writers create this post to bring the most unique, coastal inspirations to encourage readers to create their own perfect seaside escape.
Friday:
"Peek Through the Porthole"- Each week, this post will help readers get acquainted with the new coastal products that are offered by Our Boat House.
"Style Starboard: Fashion Post"-Showing the latest trends that have caught the eye of the blog's writers.
"From the Galley: Recipe Post"- This post will explain how to create a delicious meal from start to finish.
Saturday:
"Knot This But That"- This post shows a room before and after it is recreated with many different products offered by Our Boat House.
"10 Ways to…"-This post will provide detailed instruction on how to complete many different tasks associated with creating a nautical themed space.
Our Boat House is a true find of a website developed specifically for coastal home owners looking for unique ideas and items to decorate starter homes to luxury ocean abodes. Our Boat House site is a vessel that shares special nautical finds which help homeowners and designers create a beach home style that is comfortable for the entire family - a place to enjoy life and to nourish the soul.
The philosophy of Our Boat House is to combine true nautical elements and a mix of styles, finishes and textures that all work together to create a unique coastal style. By adding pops of sea glass green, watery blues and sandy neutrals the relaxed feel of being by the water is created right at home. The current trend of washed reclaimed wood adds a casual beach side element that is best mixed with the classics of the rich woods, leathers and cottons. The mix of these elements creates a warm, welcoming and timeless home that is not trendy. Whatever the readers personal taste - from contemporary to transitional - the content will help capture the drama and mood of the sea and create their own unique sea-inspired escape.
The following are just a few of Our Boat House's other coastal home furnishing selections:
Our Boat House specializes in coastal home furnishings with a classic view and offers two collections of Slip-covered Furniture - The Oceanside and The Harbor side - The collections include classic slip-covered sofas, sleepers, sectionals, chaises, chairs and ottomans that are down-filled and designed for extreme comfort and affordability. Relax with the Casual Coastal style of easy-care washable slipcovers in crisp cottons, natural linens, denim, hemp fabrics and more that are replaceable and made in the U.S.A.
Our Boat House's Unique Coastal Style Lighting Collection from around the world is high quality and designed to complement any coastal style home and provide a historic beach home feel. Iron and rope chandeliers, copper fox lights, rustic lanterns with a time worn patina, rustic candle pendants, handmade sea shell chandeliers, authentic brass passageway lights, driftwood lamps, coral shell lamps, authentic brass dock and piling lights, USCG lights, plus much more.
Our Boat House offers a collection of accent pieces, accessories, wall hangings, trunks and benches that will add interest, texture, rustic warmth and time-worn imperfection that will turn any space into the perfect coastal paradise. Authentic nautical accessories and treasures from ships from around the world. Hard to find genuine nautical, maritime decor, collectibles and furnishings-sea glass floats, ship's bells, portholes, diving helmets, bulkhead lights, brass binnacles, brass ship lights, passageway lights, fox lights, and so much more.
Make sure you follow us on Twitter.
Become a fan of OurBoatHouse.com on Facebook.