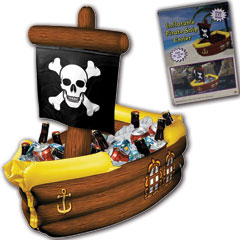 Chicago, IL (PRWEB) September 18, 2012
Wednesday September 19th marks the 10th anniversary of Talk like a Pirate Day. Windy City Novelties contains a huge selection of pirate themed decorations and other goodies that will allow customers to set sail and take a break from everyday life. Grab an eye patch and catch up on pirate lingo for this year's international Talk like a Pirate Day.
According to the official website, Talk Like A Pirate Day was created by two men, John Baur and Mark Summers, who came up with the idea while playing racquetball in the mid-90s. While playing, they started making grunting pirate noises such as "Arrghhh!" After that, they thought it would be funny to speak pirate dialect to each other while playing to make the game more entertaining. Once they continued to play several games in this manner, they decided it would be a brilliant idea to dedicate one day of the year to talking like a pirate. However, they first decided that they needed a celebrity endorser that was going to spread the word about their clever holiday. They both agreed upon on Dave Barry, popular comedian, and thus Talk like a Pirate Day was born. It quickly became popular oversees and evolved into an international holiday.
The holiday instantly became popular with college students and in college towns. For example, University of Wisconsin enjoys celebrating the holiday every year. College students celebrate this comical holiday by dressing as the characters all day. Windy City Novelties provides a large selection of Pirate Costumes that come in a variety of designs. Or college professors can join in on the fun and dress up as a pirate to class to lighten the mood. If dressing up in full costume is not an option for this year's Talk Like A Pirate Day, simply donning a pirate hat and eye patch will suffice. You could even go one step further by adding a pirate mustache and carrying around an inflatable sword!
Host a pirate party by decorating your home with Pirate Party Decorations. They provide a number of pirate-themed cutouts for simple decorating. Recreate fight scenes from The Pirates of the Caribbean Films with plastic pirate swords. Hand out pirate masks to guests once they enter the party. Serve up pirate favorites on Pirate Paper Goods, like chicken legs and fish, and make your guests eat with their hands just like real pirates. Chill beer and other beverages in an inflatable pirate chest cooler, just don't forget the rum!
If having a party in the middle of the week is not feasible, participate in a treasure hunt with your kids or other family members and friends. Windy City Novelties provides a number of little goodies that kids will enjoy finding, such as pirate tattoos, treasure chest banks, pirate pencil tops, gold coins and much, much more. With Windy City Novelties selection of party supplies, the possibilities are endless.
ABOUT WINDY CITY NOVELTIES
Windy City Novelties, a party supply company founded in 1983, is known for their great selection and competitively priced items. They have an A+ rating from the Better Business Bureau and are also a NexTag 5 star Seller. From their website, windycitynovelties.com, they offer fast and friendly shipping along with great customer service. From glow products to party decorations in a variety of themes, and even a vast selection of Halloween costumes at the best prices, Windy City Novelties has over 15,000 products and adds more each week.