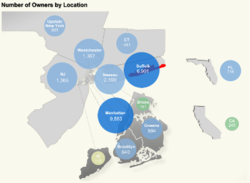 New York City, NY (PRWEB) September 18, 2012
More than half of the residential properties in the Hamptons (60%) are vacation homes owned largely by New Yorkers. Unsurprisingly, the analysis shows that Manhattan residents own 35% of all vacation homes in the Hamptons.
Translated into dollar amount, Manhattanites have invested about $20.8 billion in their Hamptons second homes, paying about $100 million in property taxes in 2011.
Owners from New Jersey and Connecticut (close to 2,000) paid almost $17 million in taxes for their Hamptons vacation homes, while taxes paid by foreign owners ($1.15 million) represent only 0.5% of the total tax amount.
Other New York State counties at the top of the list include Suffolk, Nassau and Westchester, but Hamptons buyers also come from other states like New Jersey, Connecticut, Florida, California. Overseas buyers own only about 100 vacation homes in the Hamptons and 75% of those owners come from Britain.
Click the following link for more details and for infographic.
PropertyShark.com provides real estate professionals, investors and savvy homebuyers from most US states with comprehensive property information, including owner name and phone number, building details, comparable sales, foreclosure listings, zoning, violations, maps, mailing lists, and photos. This is done in an effort to offer the transparency essential to evaluate real estate and make informed decisions.