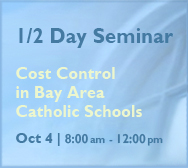 This seminar will help schools find better ways to track what is spent, reduce costs, and increase productivity."
(PRWEB) September 18, 2012
In response to increasing concern over the inability of parents to pay cost-driven tuition increases, Puridiom, a leading Procure-to-Pay solution provider, is presenting a seminar on "Cost Control for Education." The seminar focuses on a solution of strategic cost control for the Catholic and private educational systems. The half-day seminar will be presented at the Hyatt Regency, San Francisco Airport on October 4, from 8:00 am – 12:00 pm.
In partnership with several local and national companies, Puridiom has created an important cost cutting solution that will allow Catholic and private schools to reverse the trend of escalating cost.
The half-day seminar topics will include:

Outsourcing of accounts payable and bill payment
Consolidation of area-wide purchasing volumes
Automation of the procure-to-pay process
Automated prior expense approval vs. budget
Electronic document management vs. paper
"We are presenting new ways of dealing with rising costs that will not only reduce spend within the schools, but also better utilize available dollars," says Jesus Ramos, Puridiom President. "This seminar will help schools find better ways to track what is spent, reduce costs, and increase productivity."
One CFO at a large Bay Area Catholic High School commented on this new service saying, "I am very interested in a simple way to reduce our costs. Having tools that allow all the schools to work together may be the answer."
Catholic and private school administrators are encouraged to attend this no cost seminar, -Procure-to-Pay for Education, Strategies for Catholic and Private Education Cost Reduction. This seminar would also be of value to non-profit organization looking to find ways to better manage spend and reduce costs. Visit the Puridiom website for more information about the seminar, registration. White papers on this topic are also available in the Puridiom Resource Center.
About Puridiom
Puridiom is a leading Procure-to-Pay solution provider, offering the most comprehensive eProcurement software on both Cloud and Licensed platforms for organizations of all sizes and industries. For over 29 years, Puridiom has streamlined function in the supply chain with innovative technologies, providing dynamic personalized services and extensive domain experience. The easy-to-use software and team strategies enable organizations to gain a competitive position and transform business into a strategic resource savings entity. Solutions include: Enterprise Procure-to-Pay, Puridiom Xpress, Strategic Sourcing, Catalog Content Management, Supplier Enablement, Invoice Automation, Business Process Outsourcing, and Travel Management. E-Procurement consulting services are also provided.