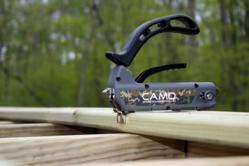 We will debut new technology that delivers multiple gap options.
GRAND RAPIDS, Mich. (PRWEB) September 19, 2012
On October 10-12, 2012, National Nail Corp.'s CAMO Fasteners will be exhibiting at the 2012 DeckExpo in Baltimore, Md., at the Baltimore Convention Center. CAMO will be featured in Booth #2407.
"We are looking forward to this year's DeckExpo," said W. Scott Baker, President and CEO of National Nail Corp. "We will debut new technology that delivers multiple gap options for installing wood decks with our CAMO Hidden Deck Fastening System, and a full line of exterior and deck fastening solutions that, together, make CAMO a single brand solution for dealers and contractors alike."
The CAMO booth will demonstrate the newly released Marksman Pro®-X1, a contractor grade tool that provides gapping flexibility where a narrow gap is preferred when installing wood deckboards, or a standard gap is required for wood and wood-alternative boards. The Marksman Pro-X1 works with boards measuring 5-1/4" to 5-3/4".
National Nail has also expanded the CAMO brand to include CAMO Exterior Screws for installing all aspects of a deck from substructure to trim, and other exterior projects. These color-matched face fasteners are designed to complement the colors of leading manufacturers' deckboards, as well as treated lumber to blend in with board surfaces. All CAMO Exterior Screws are ACQ-compatible, and include buglehead and trimhead Premium Deck Screws, Ledger and Multi-Purpose Structural Screws, Composite Screws (for capstock, composite and PVC boards), and buglehead, trimhead, and composite 316 Stainless Screws (recommended for marine environments).
CAMO is a proud sponsor of DeckExpo's Deck Workshop, hosted by renowned builder Mike Guertin. The Deck Workshop will run during exhibit hall hours on Wednesday, Thursday and Friday, and includes multiple action-oriented, hands-on presentations focusing on critical issues occurring on deck-building jobsites.
For more information, please visit http://www.camofasteners.com or call 1-800-968-6245 ext. 2118. Be sure to "Like" CAMO Fasteners on Facebook and keep up with CAMO news, stories, photos and events by signing up for the CAMO Connection.
National Nail Corp., headquartered in Grand Rapids, Mich., is an employee-owned manufacturer and distributor of high quality, innovative building products and service solutions for the residential and commercial construction industries. Other National Nail brands include Pro-Fit® Fasteners, STINGER® Cap Systems and Impressions Storm Doors and Windows.