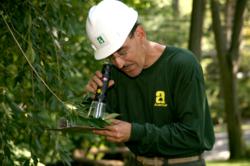 Career opportunities for arborists are looking up and continue to grow. The Bureau of Labor Statistics predicts 18% growth through 2018...
Westchester County, NY (PRWEB) September 18, 2012
According to the Bureau of Labor Statistics, the number of people who are unemployed and the percentage of unemployment have remained steady in 2012. However, career opportunities for arborists are looking up and continue to grow. The Bureau of Labor Statistics predicts 18% growth through 2018, with average salaries ranging from $44,000 to over $100,000 annually. Arborists are employed by commercial companies, utilities, municipalities, universities and the federal government.
Arborists maintain the health of trees and shrubs, and more broadly, the beauty of the landscape. This includes:

Pruning to remove dead or dangerous branches, to promote the health of the tree or shrub, or for aesthetic purposes.
Removing trees that are dangerous, unhealthy, or problematic for other reasons.
Planting and transplanting trees.
Diagnosing insects and diseases, understanding their effect on the tree, and developing and administering a plan for treatment, if necessary.
Understanding the health requirements of trees, including soil and site preferences, and improving tree health through fertilization, soil aeration and other techniques.
A career as an arborist is ideal for a person who loves the outdoors and has a talent for problem-solving. Even entry-level commercial arborists such as Plant Health Care Technicians and Tree Climbers work under the direction of a Certified Arborist to diagnose tree and plant pests and diseases, and to treat them with the appropriate controls and fertilizers. Those who have a sense of adventure might enjoy the excitement and demands of a job as a Tree Climber. Arborists also utilize people skills to educate and develop lasting relationships with their customers.
Certified Arborists receive specialized training, along with several years of experience. The certification process requires an arborist to be able to recognize a wide variety of trees and shrubs, diagnose diseases and pests, understand the scope of products used to fertilize and treat trees, evaluate soil composition, maintain safety procedures, and much more. Depending on the state, Arborists may have to be certified by their state or by an independent group such as the International Society of Arborists (ISA). An ISA-Certified arborist has to pass required exams after completing three years of full-time experience in arboriculture (or a two-year degree plus two years of experience or a four-year degree with one year of experience). The ISA also offers certifications for Utility Arborists, Municipal Arborists, Tree Worker Climbers, Aerial Lift Specialists, and Master Arborists.
Arboriculture and forestry courses and degree programs are available through many four-year and community colleges, as well as vocational schools. In addition, classes, workshops and home study courses are available through several of the major industry associations.
Almstead Tree Shrub & Lawn Care Co., a regional tree care company in New York, New Jersey, and Connecticut, employs more than a dozen full time arborists. The company seeks to employ arborists who are experts in tree and plant health care – and have the people skills to sell the company's services and maintain client relationships. The company provides a training and mentorship program that enables employees to develop necessary skills and advance their career in the tree care industry.
Michael Almstead
CEO
Almstead Tree, Shrub & Lawn Care
Michael Almstead is Vice President of Almstead Tree Shrub & Lawn Care Co. in Westchester County, NY, Fairfield County, CT, and New Jersey.
Media Contact:
Barbara Wollenberg
Co-Communications, Inc.
barbara(at)cocommunications(dot)com
tel: 914-666-0066