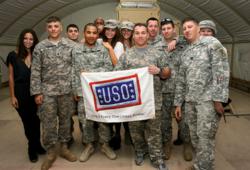 I'm so honored to take part in my first USO tour and give thanks to the men and women currently serving in the Middle East. - Brooklyn Decker
Arlington, VA (PRWEB) September 17, 2012
Big screen beauty Brooklyn Decker and model/entertainment personality Christine Teigen recently set out on their first USO tour and spent this 9/11 honoring troops in the Middle East. On a mission to extend America's thanks to troops serving overseas the duo spent time signing autographs, posing for photos and getting to know our country's greatest heroes—the men and women of the U.S. Armed Forces.
Details:

Decker and Teigen visited hundreds of troops serving overseas in the Middle East.
Most recently, Decker appeared in Peter Berg's summer hit "Battleship," alongside Liam Neeson, Rihanna and Alexander Skarsgard. Her other big screen credits include "Just Go With It" with Adam Sandler and Jennifer Anniston, and the 2012 release of "What to Expect When You are Expecting," among other projects.
Earlier this year, the USO partnered with "Battleship" director Peter Berg to produce the USO's "Real Heroes" PSA. To view the PSA visit http://bit.ly/OTs9Ca.
Decker's first big break came in 2006 with her appearance in the popular Sports Illustrated Swimsuit Issue. She followed up her 2006 debut with photos in the 2007, 2008 and 2009 issues, which lead to her career breakthrough when she appeared on the cover of the 2010 issue.
Teigen has been featured in some of today's most prestigious fashion and sports magazines from Italian Vogue, Esquire, and Glamour to Sports Illustrated Swimsuit Issue, among many others. In addition to her print career, Teigen also lends her fashion and entertainment expertise to the small screen, which includes reoccurring guest host and correspondent roles on E! Entertainment and "EXTRA."
Last month, Nine West announced its third annual Fashion Targets Breast Cancer (FTBC) and named Teigen as one of eight models to be photographed by USO tour veteran and industry-respected photographer Nigel Barker as part of the fundraising campaign. Additionally, Teigen can be seen as part of the Skullcandy Headphones Supermodel and Gillette Venus & Olay spokes model campaigns as well as on the cover of the 2011 issue of Ocean Drive magazine.
Quotes:
Attributed to Brooklyn Decker:
I'm so honored to take part in my first USO tour and give thanks to the men and women currently serving their time in the Middle East.
Attributed to Christine Teigen:
I know this experience will be unforgettable, and I can't wait to let our troops know how much their sacrifice is appreciated.
For more information about the USO, visit uso.org.
Multimedia:
USO Tour Photos: http://bit.ly/QVxY74
USO Fact Sheet: http://bit.ly/yaebvo
USO Logo: http://bit.ly/JX1ghs
Other Web Sites:
http://www.uso.org
# # #
About the USO
The USO (United Service Organizations) lifts the spirits of America's troops and their families millions of times each year at hundreds of places worldwide. We provide a touch of home through centers at airports and military bases in the U.S. and abroad, top quality entertainment and innovative programs and services. We also provide critical support to those who need us most, including forward-deployed troops, military families, wounded warriors and their families and the families of the fallen.
The USO is a private, nonprofit organization, not a government agency. All of our programs and services are made possible by the American people, support of our corporate partners and the dedication of our volunteers and staff. In addition to individual donors and corporate sponsors, the USO is supported by President's Circle Partners: American Airlines, AT&T, Clear Channel, The Coca-Cola Company, jcpenney, Kangaroo Express, Kroger, Lowe's, Northrop Grumman Corporation, Procter & Gamble, and TriWest Healthcare Alliance and Worldwide Strategic Partners: BAE Systems, The Boeing Company, Lockheed Martin, Microsoft Corporation and TKS Telepost Kabel-Service Kaiserslautern GmbH & Co. KG. We are also supported through the United Way and Combined Federal Campaign (CFC-11381). To join us in this patriotic mission, and to learn more about the USO, please visit uso.org.