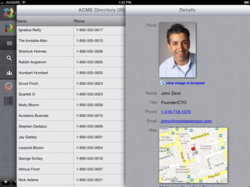 Start your free list!
Toronto, Ontario (PRWEB) September 19, 2012
mobilextension (http://www.mobilextension.com) is excited to announce its official launch into the online market in mid-September of this year. mobilextension, a cloud based tool that allows users to securely upload and distribute spreadsheet-style information through mobile devices, will be making its service available to all users in the online community in early Fall 2012. This exciting new tool is based on a simple idea: the need for information is not limited to the home or office, so why should it only be accessible there? mobilextension offers users the capability of uploading information via an online website. Uploaded information is available to be freely shared with an unlimited number of people using any mobile device (iPhone/iPad, Android, Windows Phone, BlackBerry or Mobile Web). mobilextension differentiates itself from other mobile tools by enabling freshly uploaded data to be automatically synched to users' mobile devices ensuring that the retrieved data can be used immediately to make phone calls, open URL links and maps and send emails with a click of a button.
The creators of mobilextension anticipate that the tool will be leveraged by all types of users. CTO John Zarei explains, "People ranging from business professionals and students to family members or team mates are always looking to work more efficiently. This is the perfect tool to save valuable time while effectively sharing and utilizing the latest information. Whether it's a weekly report, game schedule or stock update you're after, mobilextension ensures that all of the important information you need to get the job done is right at your fingertips".
Other mobilextension highlights and capabilities include: local storage of information, map and image display, column sorting, free text search, user filter settings and list management delegation.
About mobilextension Inc (http://www.mobilextension.com)
mobilextension is a cloud based tool designed to improve the accessibility and management of information outside the home and office. It's for everyone who has ever created a list of information and shared it with others. Users ranging from students to business professionals, and family members to team mates, can all find value and enhanced efficiency through mobilextension, regardless of their goal.