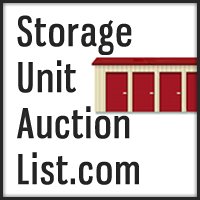 Sealed bids potentially create a more level playing field because the bidders get the chance to play their cards closer to their chests.
Asheville, NC (PRWEB) September 18, 2012
In the storage auction industry, where the rules as well as the playing field are always changing, it is important to stay one step ahead of the game. That is why StorageUnitAuctionList.com, the leading website in storage unit auction listings, is offering a new point of attack for subscribers and storage hunters: they are now listed sealed bid storage auctions.
StorageUnitAuctionList.com is known for having the largest database of storage auctions in America, listing thousands of auctions a month nationwide at 50,000 storage facilities. Before this point, the website only listed open bid auctions. Now that they are listing sealed bid auctions as well, they hope that it will affect their subscribers in a positive way.
"We made the decision to start listing sealed bid auctions to give our subscribers more choices when it comes to the storage auctions they wish to attend," says Ryan Beierlein, Chief Operations Officer of Storage Unit Auction List. "As the industry gets more competitive and the price per unit increases due to demand, sealed bids potentially create a more level playing field because the bidders get the chance to play their cards closer to their chests."
Open bid auctions and sealed bid auctions are fundamentally the same, with a few key differences. Open bid auctions, also known as English auctions, are arguably the most common type. This auction style is used in storage auction reality shows such as A&E's popular series Storage Wars. Either the auctioneer will give a starting price for the storage unit, or bidders will call one out. From there, bidders subsequently bid higher against each other until the highest bid is called. This type of auction will go on for as long as people want to keep bidding.
Sealed bid auctions, on the other hand, are generally quicker, simpler, and much quieter. All attendees who wish to bid will write the amount they are willing to bid on a piece of paper (which is sealed in an envelope), without letting any others know what their bid is. Once all bids are collected, the person with the highest bid is the winner of the unit. Many storage facilities choose this root because it eliminates the cost of hiring an auctioneer, and can be completed much easier.
Subscribers who are interested in trying sealed bid auctions can now find them in their area with their subscription to StorageUnitAuctionList.com. They will be listed in green, making it easy to identify them from the other auctions listed on the site. StorageUnitAuctionList.com is listing these auctions at no extra cost to the subscriber, keeping the monthly subscription fee low.
Listing sealed bid storage auctions is the latest innovation in a long line from StorageUnitAuctionList.com. They recently released a free week long trial for prospective subscribers to try out their services before they commit to buying a subscription, as well as new account area layout designed to be more user friendly and to attract new customers.
Storage Unit Auction List started in 2011 and has been dedicated to helping storage hunters across the nation by offering auction listings at every facility in America. With a directory with over 50,000 storage facilities--the largest in the world--and well over 80,000 actual storage auctions listed since March of 2011, Storage Unit Auction List is growing larger by the day. Their company continues to grow and innovate the way storage hunters find and attend auctions.
###
For more information about Storage Unit Auction List's website, visit them at http://www.storageunitauctionlist.com.