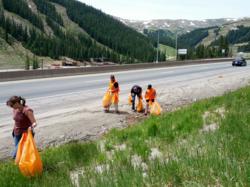 "[The program] gives us a great sense of pride and involvement in our community."
Keystone, CO (PRWEB) September 19, 2012
SummitCove Vacation Lodging recently signed up to be a sponsor in Colorado's Adopt a Highway Program. The team is responsible for regular cleanup of a two mile section of road on Interstate-70, just East of the Eisenhower Tunnel. This week, employees of SummitCove.com suited up in bright orange vests, loaded up with garbage bags, gloves and sunscreen to tackle their second Highway Cleanup Day of the summer season. Each sponsorship requires a group to host at least three cleanup days a year. Signs are posted on the highway announcing the group's sponsorship in exchange for its commitment and diligence to the program.
Variations of the Highway Cleanup programs can be found across the United States and are a huge benefit for the community. The groups volunteer for the program, meaning they are saving taxpayer's dollars by not having to hire out crews to do the cleanups. They regularly cleanup portions of highways that are constantly hit with litter, car parts, and other various items from passing motorists, making the area safer for wildlife and keeping roadsides beautiful.
SummitCove.com's Marketing Coordinator, Alyssa Hubbard commented, 'We are really happy to be involved with the program. It's actually a fun team-building event for our organization and gives us a great sense of pride and involvement in our community. Although it's hard work, I find it to be very rewarding. We are doing our part to help keep our roads clean, safe and beautiful, for both locals and visitors coming to the Summit County Area."
Safety is a big concern during cleanup days, especially since the team is working just a few feet from a major interstate. Groups are outfitted with orange vests and gloves and signs are posted along the road to warn motorists to slow down. Hubbard mentioned her crews typically pick up things like rusty truck tire chains, plastic bottles, aluminum cans, tow ropes, bungee cords, cigarette butts, hubcaps and old license plates. "It's like a graveyard for rusty semi-truck parts!" Recent snowfall in the higher elevations in Summit County has caused SummitCove to reschedule their final cleanup day to an earlier date, from early October to late September, if the weather permits.
About SummitCove.com
SummitCove.com Vacation Lodging in Keystone offers affordable and modern vacation rental properties within the Keystone Resort Area. The company also offers full service property management, professional maintenance, around the clock guest services, and competitive rates. SummitCove manages a wide variety of properties, ranging from small ski condo studios, to multiple bedroom townhomes and large private homes.