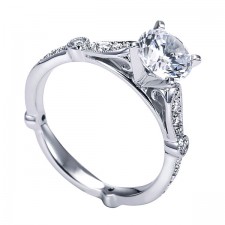 Getting engaged is a major milestone, and we want every customer, regardless of their price point, to walk out with a great ring and a smile.
Nashville, Tennessee (PRWEB) September 18, 2012
A diamond ring is a major investment for many couples—no matter what their price point. For this reason, it is crucial that individuals shopping for engagement rings have access to a diverse inventory from which to choose the ring that matches their style and their budget. Genesis Diamonds, a leading jewelry retailer headquartered in Tennessee, has recently launched its signature Genesis Designs collection. Pairing incredible quality with affordability, this line of diamond jewelry allows the company to offer stylish, on-trend pieces that shoppers with tighter budgets can afford.
Boaz Ramon, owner of Genesis Diamonds, believes that every couple should enjoy the process of purchasing their engagement ring. No matter what their price point, he and his staff celebrate the occasion with each client, providing the highest in customer service. The availability of the new Genesis Designs line accentuates this attitude.
"Couples, especially in this economy, do not always have a great deal to spend when looking for an engagement ring," comments Ramon. "For many people this may be embarrassing, as they want to provide the ring that their spouse-to-be will love. This is why Genesis Designs is so important. This particular line of jewelry offers designer quality rings at a price that is almost unheard of."
Genesis Diamonds has long been proud of its support of the community, and Ramon believes that offering affordable, stylish diamond jewelry is just one more way to support local residents. Additionally, Ramon notes that the products within the Genesis Designs line bolster the United States economy.
"All of the rings in the Genesis Designs product line are made in the United States," asserts Ramon. "This is rare, as the majority of engagement rings are produced overseas. Additionally, the rings are manufactured by a small company that puts a great deal of care into its work."
As an organization that supports the local economy, the fact that the Genesis Designs rings are made in the United States is very important the Genesis Diamonds—as it is to many of the company's customers. In addition to contributing to the creation of jobs in America, the rings in the Genesis Designs line also offer a faster production time. This means that customers are able to order and receive the rings quicker through Genesis Diamonds that through many other retailers. The key is that this shorter turnaround time does not interfere with the quality of the rings that are produced.
In fact, Ramon notes that customers can purchase certified center diamonds for their Genesis Designs engagement rings. By doing so, both the mounting and the actual diamond are of the highest quality.
"Our goal is to create a wonderful experience for each customer who walks in the door," says Ramon. "By creating an atmosphere in which customers don't have to worry about their budget because they know we offer the best value, we are able to help them thoroughly enjoy this experience. Getting engaged is a major milestone, and we want every customer, regardless of their price point, to walk out with a great ring and a smile."
For more information about Genesis Diamonds, call (855) OMG-RING.
ABOUT:
Genesis Diamonds, founded in 2005 by Boaz Ramon, has become the premier destination for diamond jewelry. An award-winning organization, Genesis Diamonds has locations in Nashville, Tennessee, Brentwood, Tennessee, and Louisville, Kentucky, which offer clients an exceedingly large inventory of diamonds, engagement rings, wedding rings, watches, and other jewelry. The Genesis Diamonds family supports the local community through a variety of philanthropic endeavors and strives to improve the local economy through the creation of jobs.
Genesis Diamonds is online at http://www.genesisdiamonds.net. Interested individuals are encouraged to visit the company's Facebook page (https://www.facebook.com/GenesisDiamonds), Twitter profile (https://twitter.com/genesisdiamondz), and YouTube channel (http://www.youtube.com/GenesisDiamondsLLC).
# # #