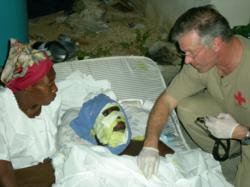 After the basic necessities, job creation becomes one of the most important features of a stable economy.

David Vanderpool, MD
CEO Mobile Medical Disaster Relief
Nashville, TN (PRWEB) September 18, 2012
Mobile Medical Disaster Relief is building a hospital, guest house, orphanage, secondary school and vocational school on its base outside of Port-au-Prince, Haiti. This project provides jobs to hundreds of Haitians who otherwise wouldn't have access to employment.
24/7 Wall Street recently published data stating that Haiti is now the poorest country in the world with 77% people living below the poverty line. Furthermore, World Bank data states that 50% Haitians live on less than one dollar per day and 80% live on less than two dollars per day.
Mobile Medical Disaster Relief, a 501(c)3 corporation, is based in Nashville, TN and is supported in part by LAVE MD, a social entrepreneurial company.