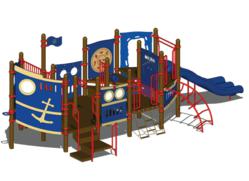 Installation of Pirate structure from Pacific Play Systems, Inc. now complete at Aliso Viejo luxury resort hotel
Carlsbad, CA (PRWEB) September 18, 2012
The installation of an exciting pirate ship themed playground was recently completed by a west coast based commercial playground equipment company, Pacific Play Systems, Inc., for a luxury resort hotel in the Aliso Viejo area. The new Pirate themed, boat-shaped structure is now open for use by the hotel guests and includes a wide range of play activities for children to enjoy, as well as a number of sea-inspired features such as flags, telescopes, steering wheels and portholes, all designed to inspire children's creativity and stir imaginations. The new system has been designed for children within the 2-5 age group and also includes a number of free-standing components such as spring riders, spinners and a triple ball hoop.
Along with the installation of the new playground equipment, site work that included the removal of an existing playground and the patching of existing poured-in-place rubberized surfacing was also completed. "The site location made installation of the new equipment a bit of a challenge," says Adam Bemanian, company's designer and estimator. Bemanian further explained that equipment had to be hand carried down a flight of steps and installers had to core through a thick concrete slab in order to core holes for numerous footings.
The new space is an exciting, colorful, and appealing place for children to play, and the new playground equipment will certainly attract additional hotel visitors, increasing business while giving children a fun way to spend an afternoon. With installation now complete and the playground opened, the supplier of the equipment, Pacific Play Systems, Inc., has begun planning other similar projects for various locations throughout Orange County, in cities including Irvine, Lake Forest, Newport Beach, Laguna Beach, Villa Park, Yorba Linda and La Palma.
About Pacific Play Systems, Inc.
Pacific Play Systems, Inc. is a southern California based commercial playground equipment company that specializes in indoor and outdoor commercial playground equipment design and installation in San Diego, Orange, Riverside, San Bernardino, Imperial, Ventura, Santa Barbara and Los Angeles counties. The company is a west coast leading supplier of commercial playground equipment offering its state-of-the-art Playcraft product, manufactured by Krauss Craft, to schools, military housing, parks, apartments, homeowners associations, and other commercial entities. Pacific Play Systems, Inc. holds several construction licenses that allow the company to deliver full turnkey projects, including everything from initial consultation, planning, and design, through complete installation. The company, in addition to its Playcraft product, also offers an extensive range of water park equipment, sports equipment, indoor and soft-contained play equipment, site furnishings, shade structures, and surfacing.