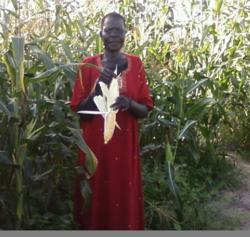 Our programs are based on a Complete Community Development Approach (CCDA) including skills development, water and sanitation programs, community training for agricultural development, and income generation, said Peter Pretorious, Founder and CEO of JAM
Milford, MI (PRWEB) September 19, 2012
JAM (jamint.com) is a South African founded registered non-profit, Christian humanitarian relief and development organization with 28 years of experience feeding and educating 750,000 children every day in South Africa, Mozambique, Rwanda, Angola and South Sudan. Feeding at least one million African children who suffer from the ill-effects of poverty and injustice daily is what JAM strives to a achieve in the foreseeable future.
Through JAM's agricultural programs, students are learning positive life skills which include how and when to plant and harvest; how to prepare the soil; care of the environment, nutrition and hygiene education. Within the next few weeks they will be preparing their school gardens and planting beet root, celery, okra, onions, pumpkins and tomatoes.
Well trained JAM field staff, along with government extension agents, teach students, teachers and community members alike how to create and maintain productive school and community gardens. The agricultural training is then included as part of the school curriculum, and in many cases, vegetables grown in the school gardens are being added to the daily feeding program provided by JAM, offering additional nutritional value and a local flavor.
"Our programs are based on a Complete Community Development Approach (CCDA) including skills development, water and sanitation programs, community training for agricultural development, and income generation," said Peter Pretorious, Founder and CEO of JAM. "The creation of school gardens and the development of strong agricultural methods are just a part of what we do in our on-going efforts to eventually feed and educate a million school children every day."
In addition to the school gardens are the community gardens and farms. An example of how JAM is changing the lives of people through agricultural programs can be seen in the life of Riak Garang, a widow with 9 children to feed and a member of the Nyoth Luoi Farmer Producer Group of Luajokbil Boma, in the Jonglei State of South Sudan.
Riak and the Nyoth Luoi Farmer Producer Group are the beneficiaries of the Jonglei Food Security Program implemented through JAM, which provides them with seeds, tools and proper training to grow and harvest crops.
Riak also has a home garden where she grows onions, okra, and a very good crop of groundnuts. Asked about her future cropping plans, she said that she is already drying corn seeds for next season and will keep some groundnut seed for next year and grow on higher ground to avoid flooding.
Riak, like many other members of the Nyoth Luoi Farmer Producer Group in South Sudan, says she is now "rich" in so many ways and is assured of feeding her family thanks to the help of JAM and the Jonglei Food Security Program.
The Siyakhula Ngokulima community garden in South Africa is aimed at increasing food security and generating income for the desperately poor inhabitants of Orange Farm, a settlement on the outskirts of northern Johannesburg. A feature of this program is the community payback component whereby a portion of the harvest is donated to local Child Care Centers. The project employs 15 groups of community members and last year they managed to donate a substantial amount of produce to 20 Child Care Centers reaching more than 180 children and 52 families in need. Moreover, the project supports 150 backyard garden farmers. This income generating opportunity improves the lives of all the community members.
In countries like Angola that suffer from a lack of good soil, JAM has developed the Earth Box Program. Last year 5,056 earth boxes were distributed to the severely impoverished Angolan schools and communities. Planted in the earth boxes, carrots, spinach, tomatoes, beans, beet root and lettuce all flourish as well as the students, teachers and community members who benefit from a physical garden as part of the classroom where everyone enjoys the nutrition that comes from fresh vegetables served right from the garden.
The school and community gardens as well as the earth boxes are just a few of JAM's programs focusing on nutritional feeding, school feeding, assistance to orphans and vulnerable children, the provision of water and sanitation, as well as skills development, community training on agricultural development, income generation projects and HIV/AIDS programming.
About Joint Aid Management
JAM strongly believes that without education, there can be no development. Effective education is only attained through the quality of schooling and most importantly, adequate nutrition, which allows a child to effectively focus, retain, and apply what is being learned. JAM currently assists more than 751,000 children through nutritional feeding programs, health and social welfare programs.
JAM USA offices are at 1808 I St. NW, Suite 800, Washington DC 20006
Tel: 202.706.5333 Fax: 202.706.5370 jamint.com/us