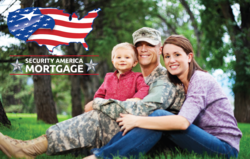 Fort Bliss, Austin, San Antonio, El Paso, Houston, Texas (PRWEB) September 17, 2012
As Americans grow in support to help military members and their families transition back into homes within the United States, the U.S. President makes several appearances nationwide - meeting the military heroes personally to offer tribute. With a 'mission to serve' attitude, veterans learn more about VA home loan benefits and additional changes to the executive priorities of the presidential cabinet.
Texas veterans can now find more information about VA eligibility, entitlement, support at VA website; va.gov. New veteran support can be found within local veteran posting including information about jobs, affordable real estate homes, and many other growing VA benefits supported by Texas based companies. America's preferred VA mortgage lenders, such as Security America Mortgage, also support veterans by sponsoring events with non-profit organizations to assist the Texas Commission for Veterans with VA relocation, VA housing education, and VA home loan advantages for military members throughout the nation.
On September 1, 2012, President Obama met military families in Fort Bliss, Texas to congratulate each active duty and veteran service member for a "job well done". According to "The Daily Beast" magazine, Obama visited the Texas veterans and families all while shaking as many hands of those who attended the crowd.
While congratulating the U.S. Heroes, Obama shook the hands of veterans, their families, and active troops all while communicating his appeasement over their "job well done". Obama further addressed the crowd of military service members with an announcement over the "new executive order" that was signed on Friday, August 31, 2012, called, "IMPROVING ACCESS TO MENTAL HEALTH SERVICES FOR VETERANS, SERVICE MEMBERS, AND MILITARY FAMILIES". (Click for Full Length White House Story Here)
"[...By the authority vested in me as President by the Constitution and the laws of the United States of America, I hereby order as follows:
Section 1. Policy. Since September 11, 2001, more than two million service members have deployed to Iraq or Afghanistan. Long deployments and intense combat conditions require optimal support for the emotional and mental health needs of our service members and their families. The need for mental health services will only increase in the coming years as the Nation deals with the effects of more than a decade of conflict. Reiterating and expanding upon the commitment outlined in my Administration's 2011 report, entitled "Strengthening Our Military Families-Security America Mortgage" we have an obligation to evaluate our progress and continue to build an integrated network of support capable of providing effective mental health services for veterans, service members, and their families.
Our public health approach must encompass the practices of disease prevention and the promotion of good health for all military populations throughout their lifespans, both within the health care systems of the Departments of Defense and Veterans Affairs and in local communities. Our efforts also must focus on both outreach to veterans and their families and the provision of high quality mental health treatment to those in need. Coordination between the Departments of Veterans Affairs and Defense during service members' transition to civilian life is essential to achieving these goals.
Ensuring that all veterans, service members (Active, Guard, and Reserve alike), and their families receive the support they deserve is a top priority for my Administration. As part of our ongoing efforts to improve all facets of military mental health, this order directs the Secretaries of Defense, Health and Human Services, Education, Veterans Affairs, and Homeland Security to expand suicide prevention strategies and take steps to meet the current and future demand for mental health and substance abuse treatment services for veterans, service members, and their families...]"
Hiring 1,600 new mental-health professionals and increase the agency's crisis-line capacity to allow those in need of professional assistance to meet with a counselor within 24 hours.
Last, Obama encouraged all military members who fought in more traumatic battles overseas to be open with those around them, and to further seek out as much support as they need, as all resources are being given to them by the government, including mental-health benefits, free counseling centers, and the many VA support groups spread out across Texas.
For military members looking for a home in Texas, Obama provided the masses with reliable real estate resources for veterans, including lists of approved Real Estate Agents. Financial hardships can be a challenge to overcome for veterans transitioning back into the civilian life, but luckily, Texas has been one of the few states in the nation to bypass the economic downfall of the repression.
Above all, the expanding VA support serves veterans with hope for change toward a new and glorious future to come for Texas homeowners.