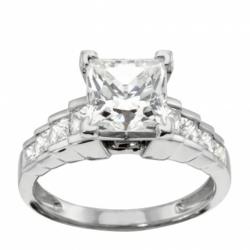 Our 'Fall In Love' Sale was inspired by the beauty of fall. It is a popular time to get engaged and we wanted to make it even easier for those searching for a dream ring to aid in a very memorable autumn proposal
(PRWEB) September 17, 2012
Diamond Nexus is holding an entire month of sales events starting on Sept. 17th and ending on Oct. 15th, 2012. Each week a new deal will be offered and customers will have an opportunity to save on jewelry from all over the website, from affordable engagement rings, to huge markdowns on custom rings and more.
For the first week of deals, customers can save 20% off any engagement rings from Diamond Nexus. This is the biggest discount of the year and it lasts for one week only, from Sept. 17th till Sept. 24th. "Our 'Fall In Love' Sale was inspired by the beauty of fall. It is a popular time to get engaged and we wanted to make it even easier for those searching for a dream ring to aid in a very memorable autumn proposal," said Kyle Blades, Director of Marketing.
For the second week of deals, from Sept. 24th through Oct. 1st, one-of-a-kind designer showcase rings will be on sale for 20% off. "This is an incredible opportunity for anyone looking for a beautiful one-of-a-kind design at a fraction of the cost," commented Chelsea Schultz, Nexus Design Studio Representative.
During the third week of the Diamond Nexus "Fall in Love" promotion, the latest engagement ring styles will be unveiled and customers can save 10% off of the entire collection of new engagement rings. There is also a 10% discount being offered on all new engagement rings through Oct. 8th.
For the final sale of the month long event, customers pursuing their own custom creations with the Nexus Design Studio can receive a free CAD (computer aided design) rendering. "This is an incredible value. Our designers are extremely talented and skilled artisans. And now is the time to get started if you want to have that stunning custom creation in time for the holidays," said Schultz.
To compliment the entire month of sales with Diamond Nexus, there is also a creative contest that has been made through Facebook to allow anyone who has purchased between the dates of Sept. 17th and Oct. 15th to enter their information and order number for a chance to win back their total engagement ring purchase price.
"We are especially excited to be having the "Win a Full Refund" contest, valid on any engagement ring purchased during the length of the sale. We will be holding weekly drawings and posting them on our Facebook page every Monday. There will be four winners and I will be making the announcements via video on Sept.24th, Oct.1st, Oct. 8th and Oct.15th," said Jennifer London, Social Media Coordinator.
For customers who have purchased between the dates of Sept. 17th and Oct.15th, 2012, and want to enter the drawing, please visit the Diamond Nexus Facebook page at this link : https://www.facebook.com/DiamondNexus/app_403359706360567
Diamond Nexus was founded in 2004 with the purpose of bringing to the public the powerful benefits of the lab-created diamond simulant revolution. They have over 250,000 customers worldwide that have awarded them an "A+" rating with the BBB, and are the ninth largest online jewelry retailer in America according to the 2011 IR500 list. For two years in a row brides from The Knot have selected them as their Best of Jeweler. Diamond Nexus currently has two retail locations: their flagship store at Woodfield Mall in suburban Chicago, Illinois, and a second store at Mayfair Mall in Milwaukee, Wisconsin. In 2009 the company was named the official jeweler and crown maker of the Miss Universe Organization as part of NBC/Universal's "Green is Universal" environmental initiative.