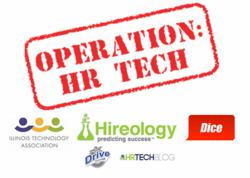 We're excited that HR Technology® is back in Chicago in 2012, and Chicago's local technology community is thrilled to showcase the amazing growth in our tech sector
Chicago, IL (PRWEB) September 18, 2012
Hireology, the leading technology platform for employee selection management, along with Dice.Com and the Illinois Technology Association will host an exclusive pre-conference kickoff party for the HR Technology® Conference, "Operation: HR Tech" at The Underground in Chicago, IL on October 7, 2012 at 6:30pm. Promotional partners for this must-attend event include DriveThru HR and HRTechBlog.
Conference attendees, bloggers, analysts, and press are all welcome to attend this free kickoff bash showcasing the HR tech industry at one of Chicago's most unique and popular nightclubs. This VIP event will begin immediately after the The HR Technology® Connection Reception and will feature cocktails and hor d'oeuvres for attendees ready to relax and network before the conference kicks off Monday morning.
"We're excited that HR Technology is back in Chicago in 2012, and Chicago's local technology community is thrilled to showcase the amazing growth in our tech sector," said Adam Robinson, CEO of Hireology. "I can't think of a better way to start off our conference week than to meet up and celebrate all the great things happening in our market, and in our city."
Admission to Operation HR Tech is limited to HR Technology® Conference attendees, conference bloggers, analysts, and press who have registered for conference credentials.
Click here to register for Operation: HR Tech at The Underground on October 7, 2012 at 6:30pm or visit http://operationhrtech.eventbrite.com. For more information please contact Erin Borgerson at (312) 253-9246 or at eborgerson(at)hireology(dot)com.
About Hireology
Hireology's award-winning Selection Management System helps companies organize their hiring process and leverage data to make better hiring decisions. Franchise systems, banks and financial institutions, healthcare systems, dealer networks, and other multi-site operators use Hireology's web-based Selection Manager™ to deliver consistent and repeatable hiring decisions in the field - leading to better hiring decisions, lower turnover, and increased profitability per location. For more information, please visit http://www.Hireology.com.
About Illinois Technology Association
The Illinois Technology Association (ITA) is the driving force behind the growth of Illinois' vibrant technology industry. Providing programs and services focused on development, visibility, and talent attraction, ITA accelerates the growth of member company's businesses. ITA brings growth-stage industry companies together, leveraging the connections and experiences of the community to increase the overall success rate of the local industry. Championing the development and application of technologies and leveraging its transformative nature, ITA is an invaluable resource for growing companies. http://www.illinoistech.org/
About Dice.com
Dice, a Dice Holdings, Inc. service, is the leading career site for technology and engineering professionals. With a 20‐year track record of meeting the ever‐changing needs of technology professionals, companies and recruiters, our specialty focus and exposure to highly skilled professional communities enable employers to reach hard‐to‐find, experienced and qualified technology and engineering candidates. http://www.Dice.com