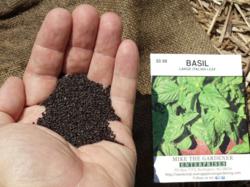 We know the concerns of vegetable gardeners when it comes to the safety and healthiness of their vegetable seeds which is why we ... only keep heirloom varieties in our inventory
Burlington, NJ (PRWEB) September 19, 2012
In an effort to reduce inventory and overstocks, vegetable gardening retailer Mike the Gardener Enterprises has created a vegetable seeds mailing list sure to excite vegetable gardeners everywhere.
"We receive returns of seed packets due to bad addresses, someone moves or envelopes damaged during shipment," says Mike the Gardener owner Mike Podlesny. "Even though the vegetable seeds are perfectly fine, we do not resell them in our store and we do not want to throw them away."
Podlesny's solution, simply mail them out to avid vegetable gardeners who want and can use them that are signed up for their vegetable seeds mailing list.
"We thought it would be best to create a mailing list where we send the vegetable seeds, 2 packs at a time, to the next person on the list," Podlesny continues. "As we get the extras back, we send them out. This helps us keep overstocks and returns low and waste to a minimum."
The mailing list, which can be found at http://www.averagepersongardening.com/leftoverseeds is open for anyone to join and depending on where you live, a one time nominal set up fee may apply.
All of the vegetable seeds mailed out are open pollinated heirloom varieties. "We know the concerns of vegetable gardeners when it comes to the safety and healthiness of their vegetable seeds which is why we are a signer of the safe seed pledge and only keep heirloom varieties in our inventory," assures Podlesny.
# # #