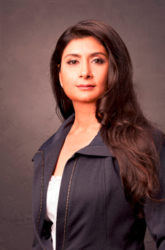 Baltimore, MD (PRWEB) September 18, 2012
Yoga Wellness, LLC announced today that Rajashree Choudhury, five time winner of National India Yoga Championships and wife of Bikram Choudhury, world-renowned inventor of Bikram Hot Yoga, will educate attendees at Expo East, the largest natural products trade show on the east coast, on why yoga has become the "fastest growing sport in America, with over 20 million practitioners." She will be speaking at 10:00am Friday, September 20 in Hall A at booth #4734 and available for interview Friday between 9am and noon. Expo East annually reaches 25,000 members of the business community with cutting-edge insight from more than 1,000 leaders among Natural Products Industry professionals.
Rajashree will be sharing her profound knowledge of how Bikram Yoga techniques can create harmony between mind, body and soul. She and her internationally acclaimed husband are currently engaged in the development and launch of their Bikram Lifestyle brand, which includes Bikram Balance, a natural alkalizing hydration drink with the antioxidant power of over 15 servings of fruits and vegetables per scoop being launched to the natural products industry at Expo East. Show attendees and media will have the opportunity to speak with Rajashree, sample Bikram Balance and receive a signed copy of the book, Bikram's Beginning Yoga Class. The first 100 copies will be free to qualified retailers and buyers.
"We are honored to have Rajashree with us at Expo East to share her vast wisdom on the impact of Bikram Yoga on vibrant health through the balancing of the body, mind and soul connection. Her support and role in educating people about the benefits of a well hydrated body to enhance not only the Bikram Yoga experience, but anyone who aspires to reach and maintain optimal health is a true testimony to her personal commitment and goal of improving the quality of people's lives," said Deonn Hayes, VP of Bikram Balance.
About Yoga Wellness LLC
Yoga Wellness, LLC engages in the development, marketing and distribution of Bikram Balance®, an all-natural nutritional fruit and vegetable beverage, which restores and balances electrolytes, vitamins and minerals lost during sporting activities and workouts. Bikram Choudhury, founder of the worldwide Bikram Yoga College of India and Bikram Yoga studios, has co-developed the product specifically for his signature technique of hot yoga. The product is available in over 2500 independent Bikram Yoga Studios worldwide and independent and chain health food stores, mass market retail and the online community. Yoga Wellness, LLC founded in 2011, is a wholly owned subsidiary of Wellness Watchers Global, LLC based in Boca Raton, Florida.
Bikram Balance is a nutrient rich, anti-oxidant super food and comes in two flavors: Bikram Balance Original and Bikram Balance Berry, both of which are vegan and gluten-free. Each scoop contains the equivalent of at least fifteen servings of fruits and veggies and is high in antioxidants. For more information, please visit Bikram Balance at Natural Products Expo East 2012 in Hall A at Booth # 4734 or visit our website at http://www.bikrambalance.com or http://www.bikramyoga.com.
About Rajashree Choudhury
Born in Kolkata, India, Rajashree Choudhury started her yoga training at the urging of her parents at age four. She was a five-time winner of the National Indian Yoga Championship from 1979 to 1983 and holds certification in Hatha Yoga Therapy for chronic diseases and disorders.
With over 15 years in the East and 25 years in the West, Rajashree's special focus has been on the emotional side of yoga and how the practice can balance the energy of the human body, impacting not only disease, but also the body/mind/soul connection which is integral in establishing vibrant health.
After more than ten years of teaching yoga in the United States, Rajashree collaborated with her husband, Bikram Choudhury, in creating the highly successful Teacher Training program. She conducts seminars on yoga and personal development worldwide, and has published a series of highly-acclaimed Pregnancy Yoga Classes on DVD.
Rajashree has appeared on several national and internationally broadcast television programs promoting the countless benefits of yoga. In conjunction with the International Yoga Asana Championships, now in its eighth year, she has founded the USA Yoga Federation, a non-profit organization formed to facilitate her goal of yoga ultimately being accepted as an Olympic Sport.