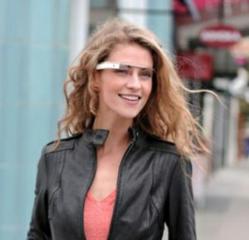 I am so excited to introduce Glass to the fashion world and use this revolutionary technology to give everyone a unique perspective into fashion.
(PRWEB) September 18, 2012
With Apple's recent announcement of the iPhone 5, Rodeo Drive Resale (http://www.shopRDR.com), premier reseller of 100% authentic guaranteed Marc Jacobs bags, Tiffany & Company Jewelry, and Louis Vuitton wallets, explores the world of fashion and technology for a futuristic look at a few trends leaving their mark on the runway and the web.
1) PINTEREST SPARKS INTEREST: Expanding upon an already fabulous fashion collection has never been easier thanks to content sharing sites such as Pinterest, which allows users to catalogue their favorite fashion finds and share them with fellow users from around the world. In addition to finding the next great outfit, the social photo sharing website, launched in 2010, can be used to plan weddings, home decoration ideas, back-to-school tips or a number of other interests. Fashion lovers combine their love of cutting edge style with the latest in social media by uploading and combing through photo collections of styles both new and vintage.
2) FROM CLASSY TO GLASSY: "Soon you'll get a glimpse into what it's like to design, prepare and experience the [Diane von Furstenburg] show at New York Fashion Week through Diane's eyes and a few other views," Google announced during a press release earlier this month. True to their word, company co-founder Sergey Brin formally introduced the world to Google Glass during a special NYFW showcase. The glasses, which can be used to message friends, make online purchases and share information, are scheduled for release by the end of 2013.
3) GAME OF PHONES: Perhaps the most expensive accessory millions of Americans refuse to leave home without, Apple unveiled the iPhone 5 last week, sending brand loyalists rushing to the web to score a glimpse of the latest version of the internationally beloved gizmo. While the iPhone is no Christian Dior belt or Hermes scarf, its reputation as the "trendy" phone, which launch on Friday, September 21, and new design will quickly make previous iPhones look dated by comparison. Accessory (and gadget) lovers looking to wrap their fingers around the iPhone 5 set to make the holidays especially jolly for the folks at Apple: According to a Washington Post story, the company is predicted to sell 48.2 million iPhones by end of December.
4) FAST FASHION: The term "fast fashion" is used to describe the practice in which designs are rushed from the catwalk to store in order to capture current trends, has done wonders for midrange retail stores, whose customers typically are not purchasing items such as St. John Knits, Louis Vuitton heels and Chanel purses. These "inspired" designs give midlevel shoppers the look of luxury pieces, without the high tag price. "The rate of technology advancement means ideas can be exchanged even faster," said Arvind Singhal, CEO of Indian consultancy Technopakin said a 2010 story posted by Just-style.com. "Take this to the next level, and as technology gets cheaper and faster then fashion will get faster too."
Rodeo Drive Resale (shopRDR.com) has built a reputation of providing amazing deals on handbags, clothing and accessories from the top designers of upscale fashion. The company offers a 100% guarantee of authenticity on each item sold, and works daily with a network of clients looking to buy, sell, or for consignment of their luxury goods. ShopRDR.com loves high-end fashion, and believes finding a high quality, classic piece should be an easy, enjoyable -- and most importantly -- hassle-free shopping experience. For the finest in Louis Vuitton, Chanel, Prada, Gucci, St. John Knits, Christian Louboutin, Tiffany & Co. and more, visit RDR online at http://www.shopRDR.com or call 1-888-697-3725. Also find shopRDR.com's blog at http://blog.shopRDR.com.
Also find shopRDR at:
Blog: blog.shopRDR.com
Facebook: facebook.com/shopRDR
Twitter: twitter.com/shopRDR
YouTube: youtube.com/ shopRDR
Pinterest: pinterest.com/shopRDR
Rodeo Drive Resale (shopRDR.com)
1-888-697-3725
service(at)shopRDR.com