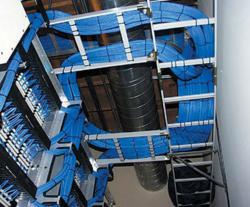 StructuredCabling.com is an incredible resource for all my Network Cabling needs
(PRWEB) September 19, 2012
Structured Cabling also referred to as Network Cabling has recently launched a new hiring service for structured cabling contractors in the United States and Canada. The service is available on their website, StructuredCabling.com. A Structured Cabling employee, announced the new online service.
Installing new structured cabling is a big investment in a company's infrastructure, the kind of infrastructure that will likely be in place for the next five or more years. In today's information economy, the network cabling installation is as important as the road to a company's place of business. It connects companies with their clients and the world. When a company needs to hire a contractor to install network cabling or voice and data cabling, they will want to know their options and get the best people for such a critical, long-lasting project.
Structured Cabling's new service takes the guesswork out of finding the right network cabling contractor for the job with their database of contractors. They do business with every national structured cabling contractor in the US and Canada, and many local contractors as well. Clients can tell them about the job they need done, and then receive recommendations for the top contractors in their area.
Here's how the service works. A client visits StructuredCabling.com, and right on the home page, he/she can fill out a few easy details about the project, like whether the company is using Cat5 cable, Cat5e cable, or Cat6 cable. The client will be contacted by a Structured Cabling representative, usually within 24 hours, to discuss the project further and get down all the details for the new phone system or network.
Then, Structured Cabling compiles a list of the most appropriate contractors in the client's area. The client is given this list and allowed to choose the contractors from which they would like to see bids. The chosen contractors then submit bids directly to the client.
The client has full control over who contacts him. He can specify whether he would like one, two, three, or more bids to be submitted. The hiring service does not give or sell client contact information to any parties beyond what has been requested.
Clients can also search for contractors by state in the United States and browse through all the contractors who've chosen to advertise on the site.
Structured Cabling has been in business since 1998 and serves over 400 clients a year. As SEI Communications puts it, "Structured Cabling is an incredible resource that I could not run my business without."
They also offer services to contractors. Contractors can register for free to be included in the database of companies and people that are suggested to clients. StructuredCabling.com welcomes registrations from cabling installation companies as well as from individual cabling engineers and technicians.
Contractors can also get listed publicly on the site for a monthly fee. The site features an interactive map that shows structured cabling installers by state, and is a great way to catch the eye of interested clients in the area.
From the contractor side, StructuredCabling.com is an excellent source of client leads. Contractors describe their cabling areas of expertise, whether that is voice and data cabling or network cabling installation. They also specify which geographic areas they service. Then, the online service brings them leads who are already looking to hire, and whose project matches the network cabling contractor's services.
StructuredCabling.com is a win-win for clients and network cabling contractors. It's free, professional, and accurate. It saves clients from scouting dodgy contractors, and contractors from barking up the wrong tree for leads. It's the smart place to go for structured cabling professionals.