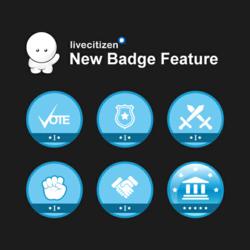 Los Angeles, CA (PRWEB) September 20, 2012
LiveCitizen.com, a social debate site focused on politics, current events and social issues, launched today a host of new features to heighten sociability and make engaging on the site more fun and relevant. The addition of levels, badges and the leaderboard aims to effectively identify core users and express the "political personalities" of all community members.
Starting today, the accumulation of points from everyday activities will allow members to move up in levels beginning with "Citizen" and ending with "President" for a total of 10 levels. As a feature unique to LiveCitizen, there can only be one President at one time in the community. Members who reach the standing of President will be awarded privileges, such as a featured spot on the front page that will be unavailable to anyone else until a new user can reach the status of President and take their seat.
Another new feature is the addition of badges that expresses the "political personality" of members. For example, if a user receives a high number of disagrees to their posts, the user would receive a "Controversial" badge, while receiving a high number of agrees would garner a "Pundit" badge. Altogether, six badges will be available at launch.
The new points system will also rank community members on the leaderboard that will keep track of the top 100 highest ranking point scorers by the day, week, month and for all time.
In the future LiveCitizen intends to make real impact with the points system by allowing members to exchange points as currency and donations and high scoring users may also be rewarded with additional prizes and privileges on the site. For more information please visit LiveCitizen's visual guide to the new features here.
LiveCitizen.com is a project of Advanced Video Communications, Inc (AVC). Headquartered in downtown Los Angeles, AVC specializes in Video Chat, Rich Media and eCommerce systems utilizing cutting-edge technology and advanced development techniques. AVC provides online meetings, Web and video conferencing services to companies of any size.