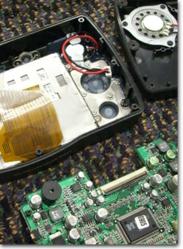 "In many of our development programs we have offered interrogation services as a risk reduction tool. Now, we are we branching out and offering this service on products that are not necessarily designed in house at Helix,"
MANCHESTER, NH (PRWEB) September 19, 2012
Headquartered in historic Manchester, New Hampshire, Helix has a long and prestigious history as a design firm. Now, the company is offering its expertise through non-biased third party product interrogation and testing – to ensure that clients' products meet or exceed quality and reliability expectations.
While Helix has tested their own designs as part of the development process for many years, the company has now expanded this service as a "stand-alone" offering for products that they did not design – but can potentially make better.
"In many of our development programs we have offered interrogation services as a risk reduction tool. Now, we are we branching out and offering this service on products that are not necessarily designed in house at Helix," explains A.K. Stratton, Director of Product Development. "There are several testing agencies that will certify products, but the tests are generally expensive and are required to be on the production version of your device. We offer a streamlined round of tests to aid with locating potential issues prior to such agency testing. We're not certifying products, what we do is we offer an affordable program that makes improvement suggestions and risk reduction."
When a firm has a prototype ready for certification, Helix's new in-house testing service is the logical next step.
"The interrogation process consists of a series of explorations. The reviews can be a simple tear down, which is the disassembly and re-assembly, of a product with observations of our findings. Details may include but are not limited to assembly techniques – was enough adhesive used, were there any missing screws, gaskets, or connectors, were the fasteners installed with the proper torque, etc.," Stratton explains. "Another set of test includes drop testing a unit. The product is allowed to free fall from a specific height while being video recorded. A unit may be dropped several times onto different faces/corners. Each time the unit is dropped a series of inspections take place- visual inspection, power up, simple operations to confirm that the unit is still operational."
In recent years, Helix Design has created a number of products, such as an award winning satellite communications device, for which waterproofing was one of the necessary design requirements. Now, through their interrogating and testing service, they offer waterproof checks for other products.
"We do water ingress testing that simulates different levels of environmental situations from rain to full submersion, to a depth of one meter for 30 minutes. After a product is subjected to the water testing it is typically disassembled and inspected to record how successful the unit was at keeping water out. An alternative to actual water exposure is vacuum testing," Stratton says. "During this test, a port is made into the product so that the air from the interior can be evacuated. If the unit can hold the vacuum based on the agreed upon criteria – so much loss over a certain time period – then the unit is deemed to be watertight without the physical introduction of water. Water testing can be a very destructive process.
But since all products are different, and likewise need to be analyzed as such, Helix's interrogation and testing program is flexible to any client's specific needs.
"We offer fully-customized interrogations based on customer requests. This can include preparing specific tests with custom fixtures for testing – say, for example, by repeatedly flexing a hinge – or it can be a software appraisal such as continuously running commands until discovering a failure," Stratton adds.
Why send a new product off to be dropped, drowned and dismantled by a group of design experts? There are plenty of reasons, according to Helix.
Their interrogating and testing program can help avoid costly recalls, check for faulty processes, assembly techniques or errors, and verify overseas manufacturing materials. Additionally, the program offers a "second set of eyes," so to speak, or "out-of-box" experience reporting of products specifications in order to confirm proper quality prior to public release.
"Helix designers and engineers can offer minor updates and then prototype these modifications prior to tooling updates, verification prototypes play major role in proving out design prior to permanent tooling modifications," Stratton says.
While Helix Design generally focuses on smaller, ruggedized electronics – such as two-way radios, casings, GPS devices, etc. – virtually any product can be inspected at their interrogation and testing lab.
"Helix is the right choice for this type of service because of our vast product development experience, our flexibility and our availability," says Stratton. "Helix is versed in all phases of development and can offer assistance to help companies prepare for product releases, navigate part failures, and develop strategies to avoid consumer disappointment."
For its worldwide clients, Helix offers a wide variety of product design services including industrial design, mechanical engineering, models and prototypes, manufacturing services, design research, user interaction and ergonomics and project management – in addition to its newly-launched interrogation and testing services.
To learn more about Helix Design, located at 175 Lincoln Street, and the many services that they offer, call (603) 644-1408, or visit their website at http://www.HelixDesign.com.