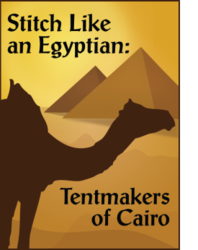 Des Moines, Iowa (PRWEB) September 18, 2012
The American Quilter's Society is dedicated to promoting quilters and their work around the world. Nothing illustrates this commitment more than the recent success of the North American Premiere of "Stitch Like an Egyptian: Tentmakers of Cairo". AQS is raising awareness of the tentmakers' work, an ancient textile art in Egypt, perhaps saving it from vanishing into history.
Egyptian tentmakers apply stunning appliqué designs to canvas-backed cotton backgrounds, sometimes forming multiple layers of design and dimension. Meant to hang upright, these appliqué designs would line tents or screens that could decorate a whole street.
Tentmaking was once a thriving art form in the Middle East; valued and prized enough to be found in Pharaonic tombs. Yet many economic and social changes in Egypt are driving this beautiful art to the edge of extinction. Decreased tourism and the wide availability of pre-printed fabrics have severely undercut demand for these men's work.
Until now, the Khan Khayamiya (Market of the Tentmakers) in Cairo was the only place on Earth to enjoy and purchase these masterpieces. Australian curator Jenny Bowker noted: "They're looking at new marketing systems to keep their families going and keep the tradition alive."
The American Quilter's Society has stepped up to help the Tentmakers of Cairo by coordinating the North American tour of "Stitch Like an Egyptian: Tentmakers of Cairo." AQS will keep their work on display at its international quilt shows, while also supplying a constant stream of new orders for the tentmakers' work.
More than 21,500 attendees at the AQS Quilt Show caught a glimpse of their artistry, and fell in love. Strolling through the aisles with 95 works on display, art-lovers and quilters alike marveled at the detail of the exclusively hand-stitched quilts on canvas.
AQS Marketing Director Tim Langlitz remarked "Just like quilters in America, these men transform a functional piece for the home into a museum-quality work of art."
Interest and response was so high at the premiere, organizers at the American Quilter's Society are even more excited to keep this exhibition touring the United States. This exhibition now travels to Des Moines, Iowa, to be on display at the AQS Quilt Show at the Iowa Events Center, October 3rd through 6th, 2012.
Entry to the exhibit is free with show admission to the AQS Quilt Show in Des Moines, Iowa. The show is open to the public, October 3rd through 6th, 2012. Tickets start at $11, with AQS member and multi-day discounts available.