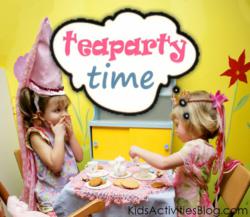 Colorful and tasty ways to make kids dress up games more memorable for your princess and her special guests!
Dallas, TX (PRWEB) September 19, 2012
Kids dress up game has been taken to new levels: Hot new tea party ideas that make every one of your princesses feel extra special. Kids Activities Blog presents creative ideas to make the time with your young ones extra special. Remember your tea party from way back then?
How about some new fun and easy ways to make your kiddos and their special tea guests have a spectacular time? For the tea party menu add some chocolate tea cakes that take mere minutes to make together with the tea party guests. Kids Activities Blog has the easy and fast recipe.
Or you can add some extra spice and color to the afternoon by making yummy rainbow cupcakes. You can choose to bake them or make pretend ones. If you are not up for baking the sugary version for your special princesses, just use the great inspiration from the Kids Activities Blog to make some pretend Playdough treats. The pictures of the colorful treats are "delicious." They do not have to be baked and can be made in no time. Simply check out the "recipe" for the Playdough version.
The homemade princess paper doll is a must for every aspiring princess at the tea party. The paper dolls are fun to make before or during the party and are great goody bag items when the special tea time guests are leaving. If you are not aspired yet, just check out the pictures showing simple and easy ways to make your kids dress up game extra special.
The Kids Activities Blog has new colorful and tasty ways to make kids dress up games more memorable for your princesses and their special guests.