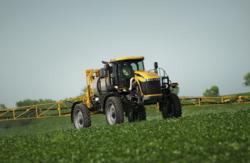 By making the latest precision ag technologies more readily available, we're elevating our customers' profit potential
Duluth, GA (PRWEB) September 20, 2012
The 2013 RoGator from AGCO Application Equipment continues to push the boundaries on what professional applicators and large-scale growers can expect when it comes to smarter and more-efficient application practices. All three models in the 2013 lineup (the RG900, RG1100 and RG1300) include AGCOMMAND, AGCO's proprietary telemetry system, as a standard feature with one year of the Advanced Service subscription. For additional spray-height accuracy and control, AGCO now offers NORAC UC5™ Spray Height Control System as an available technology option. Additionally, the RG900 now is available with a spinner box, making all RoGator models liquid-, dry- or combo-ready.
These advanced technology systems complement the Tier 4 interim-compliant AGCO POWER 8.4-liter diesel engine with e3 selective catalytic reduction (SCR) technology that was introduced to the RoGator in 2011. Customers operating with the new engine configuration have reported an increase in in-field performance and up to 13 percent less fuel consumed compared to Tier III non-SCR machines.
"When you estimate running your machine for 600 hours each year with diesel prices at $4 per gallon, the savings add up quickly," says Paul Haefner, AGCO Application Equipment product marketing specialist.
Haefner emphasizes that RoGator is the only applicator offering combo-ready machines on all models. He says the ability to quickly switch application systems from dry to liquid on one machine adds significant versatility and value.
"It's rewarding to see customers who are just as excited as we are with how RoGator performs," he said. "Now, by making the latest precision ag technologies more readily available, we're elevating our customers' profit potential."
AGCOMMAND Telemetry
AGCOMMAND is a data-recording and management tool that can report almost in real time the location of a machine, operator performance, engine hours, fuel consumption, how well the engine is performing and how efficiently the equipment is being used. The telemetry system also creates geo-fences, or GPS boundaries, that can help managers plan spray routes that can help a spray fleet run more efficiently. When working in tandem with the AGCOMMAND Advanced Service subscription, GPS satellite location and machine performance data is generated every 10 seconds. The collected data then is transmitted via modem over a cell network to a secure website every 10 minutes. AGCOMMAND works on any agricultural machine.
"Telemetry-based tracking is becoming less of a trend and more of an invaluable tool, particularly for agri-retailers and large-scale farm operations that manage fleets of machinery," says Craig Jorgensen, business development specialist for AGCO. "Knowing where your machines are and how well they are performing at all times virtually cuts out any guesswork and helps operators move more intuitively and productively."
NORAC UC5™ Spray Height Control
Speed, precision and accuracy are hand-in-hand with the NORAC UC5 Spray Height Control system. Ultrasonic sensors mounted on the left, right and center boom sections automatically maintain a preset height of the entire boom above the ground or crop. The sensors properly adjust boom height to follow the contours of the land, eliminating the need for the operator to manually monitor field conditions and continually adjust the speed and boom. This minimizes operator fatigue and maximizes time spent on proper coverage and safety.
GatorTrak® Four-Wheel Steering
With growers looking to salvage as much crop yield as they can this season, Haefner says GatorTrak is proving to be a valuable asset. GatorTrak four-wheel steering is an optional feature available exclusively on RoGator. GatorTrak greatly improves in-field maneuverability while reducing soil disturbance and crop damage. With GatorTrak four-wheel steer activated, the rear axle automatically adjusts to the front axle for coordinated steering, leaving two tracks through the end rows as opposed to four tracks with a conventional two-wheel steer machine. The tight, 16-foot turning radius also greatly improves maneuverability.
Yield loss is inevitable during a headland turn due to crop damage and multiple track compaction. That loss is significantly reduced with the tight turn radius and ability for GatorTrak to leave only two tracks per headland turn versus four with conventional two-wheel steer.
"Depending on field size and number of headland turns, the reduced crop damage really adds up to true savings for our large-scale farmers, and it's a great selling point that our professional custom applicators can market to their customers," says Haefner. "Every fiber of the RoGator was designed exclusively for application equipment. GatorTrak is case-in-point that when you have a singular focus in mind, you'll inevitably find innovative solutions that add up to tremendous performance advantages."
Additional features on the 2013 RoGator models carried over from its award-winning predecessor include:

A proven drivetrain system that provides a fast response to changing field conditions for more consistent application speeds
A choice of four boom options from 80 to 120 feet wide. All feature tip and full boom breakaway for added durability
Safety and visibility improvements, such as the lower, non-obstructive location of boom rests for transport, improved mirror placement, back-up alarm and additional auxiliary lights
Service access points located at ground level to make maintenance tasks easier
An enhanced operator environment lowers in-cab decibel levels for a quite ride
Level walkway from front-to-back provides safe and easy access to the rear of the machine
Improved boom plumbing and air aspirators that provide faster on-and-off times while also improving upon an already-impressive, industry-leading +/- one psi tip-to-tip accuracy
"We've poured a tremendous amount of engineering and design into the RoGator over the past few years, and it's rewarding when our customers tell us how these changes are improving accuracy, precision, field performance, safety and value in their operations," says Mark Sharitz, AGCO Application Equipment director of marketing. "Put it to the test against any other sprayer in its class, and you'll quickly see the superior advantages that favor RoGator."
For more information on the new RoGator lineup for 2013, visit your local dealer or http://www.applylikeapro.com.
About AGCO:
AGCO, Your Agriculture Company, (NYSE: AGCO), is a global leader focused on the design, manufacture and distribution of agricultural machinery. AGCO supports more productive farming through a full line of tractors, combines, hay tools, sprayers, forage equipment, tillage, implements, grain storage and protein production systems, as well as related replacement parts. AGCO products are sold through four core machinery brands, Challenger®, Fendt®, Massey Ferguson® and Valtra® and are distributed globally through 3,100 independent dealers and distributors in more than 140 countries worldwide. Retail financing is available through AGCO Finance for qualified purchasers. Founded in 1990, AGCO is headquartered in Duluth, GA, USA. In 2011, AGCO had net sales of $8.8 billion. http://www.AGCOcorp.com
Safe Harbor Statement
Statements which are not historical facts, including expectations regarding the manufacture of equipment, are forward-looking and subject to risks that could cause actual results to differ materially from those suggested by the statements. These risks include possible declines in demand for products as a result of weather, demand and other conditions that impact farm income, actions by producers of competitive products, and the general risks attendant to acquisitions. Further information concerning these and other factors is included in AGCO's filings with the Securities and Exchange Commission, including its Form 10-K for the year ended December 31, 2011. AGCO disclaims any obligation to update any forward-looking statements except as required by law.
###