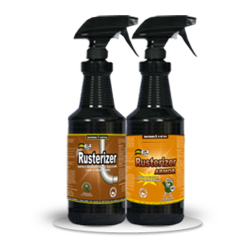 ...because the product[Rusterizer] is safe, it prevents medical expenses that others rust removers could otherwise bring.
Tampa, FL (PRWEB) September 27, 2012
Rust removal sprays are an essential help in keeping a home free from corrosion. With them, it is so much easier and quicker to clear rust and its stain. The only thing is that most of today's rust solutions are made with harsh chemical ingredients. So to help homeowners and rust contractors deliver a truly safe rust treatment, Rusterizer formulated a green rust remover. Not only that, it decided to offer its product with 10% price cut.
Get a Sample of Rusterizer and See It in Action Yourself
Carrying the same Rusterizer name, the solution is basically composed of natural ingredients. Among those ingredients are citrus, corn, soy and vegetables.
As its components are organic, Rusterizer leaves no chemical elements that could harm the health. Hence, it is safer, explained a company representative. Particularly, among the health risks that could be avoided by the use of it as the rep enumerated are allergies and breathing difficulties.
However, apart from human health, the environment is also benefited by the product. The fact that it releases no harmful chemical ingredients saves the planet from more pollutants. And as the earth is now going through a major environmental crisis, even just the use of it is already a significant help, the said representative added.
Financially, Rusterizer also offers a great advantage. The same company rep explained that because the product is safe, it prevents medical expenses that others rust removers could otherwise bring. More than that, as it is natural, it is safe to use on any material. And that eliminates the need to get different rust removers that will not add more damage to the item rusted.
Learn More About Rusterizer and How It is Made Safe
Nonetheless, the rep said that those financial benefits are not just good for homeowners but also for rust contractors. As it is that the product offers more advantages than any other rust removal solution, it appeals to more clients. And as it attracts more clients, it can increase a contractor's profit apart from reducing his or her rust removal cost.
But then again, Rusterizer, the company, is aware that it is not that easy to convince consumers with just words. So to prove that its non-toxic rust removal is indeed a truly beneficial product, it released a video demonstration and decided to give-out complimentary samples of the solutions.
Additionally, to show how it appreciates its customer's business, the company also chose to increase the financial benefits its clients get from the use of the product. It opted to offer its rust remover with 10% discount. Apart from, it also decided to waive the shipping fee of anyone who will order its Rusterizer in 5 gallons and 55 gallons volumes.
Take Advantage of Rusterizer's Special Offers. Get the Non-Toxic Rust Removal Product Today