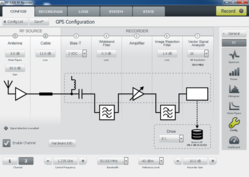 RF Studio has been developed for RF and test engineers working with real-world RF signals.
Nashville, TN (PRWEB) September 18, 2012
Averna, an industry-leading developer of test solutions and services for communications and electronics device makers worldwide, announced today the availability of RF Studio – workflow software that records and manages real-world RF signals in a cost-effective manner.
RF Studio's first deployment, called RF Studio Recorder, comes embedded on the Averna RP-5300 Series RF Recorder. It is designed for making trouble-free RF recordings, managing collected data, and analyzing or playing back collected RF environments. RF Studio allows users to quickly define and record multiple RF signals. Once captured, these signals can be easily loaded and manipulated, allowing users to isolate and visualize any characteristic of the captured data for in-depth analysis and product refinements.
"RF Studio has been developed for RF and test engineers working with real-world RF signals," says Brendan Wolfe, Director of Product Development for Averna. "RF Studio is a comprehensive signal-processing, conditioning, analysis, and generation tool designed for streamlining product design, validation, and support processes."
Features

Advanced user-defined RF, digital and analog signal-recording capabilities
Spectrum, Noise Figure, Power, and Histogram views for signal visualization/adjustment
User-friendly tools for logging, manipulating, and archiving real-world signals
Records most common RF signals worldwide, including GNSS
Channel-stitching for capturing super-wide signals – 100 MHz and beyond
Plug-in architecture supports additional hardware, channels, user inputs, and remote triggering
Pricing and Availability
The Averna RP-5300 and RF Studio are available now to customers worldwide. Pricing is available on request. Please contact us at rp@averna.com. For additional product information, visit the product pages: RF Studio and RP-5300.
Averna at ION GNSS: Sept. 19-21, 2012, in Nashville, TN
Averna will be showcasing the RP-5300 RF Recorder and RF Studio in booth #102. As well, Averna will present Expanding GNSS Testing with Multiple Synchronized Signal Recorders on Wednesday, Sept. 19 @ 8:30 am. Click here to learn more. The presentation will be available for download at http://www.averna.com after the show.
Click to Tweet: From @Avernatech: new software to advance work with
real-world RF signals - for RF and test engineers http://bit.ly/UfUsM7
About Averna
Averna is a premier manufacturing solution provider for communications and electronics device-makers worldwide, helping them deliver a better end-user customer experience. Key Averna clients in the communications, aerospace, defense, automotive, consumer electronics, and medical device industries use Proligent, RF Test Instruments, and other test solutions to accelerate product development, reduce manufacturing costs, achieve superior quality throughout the lifecycle, and solve critical supply-chain issues.
Averna has offices and sales partners around the world. Incorporated in 1999, Averna is a Best in Test award winner, an Ernst & Young Entrepreneur of the Year® recipient, and has been honored as one of the Deloitte Fast 500 fastest-growing technology companies in North America. http://www.averna.com
© Copyright 2012 Averna. All rights reserved. Information subject to change without notice.
Averna and RF Studio are trademarks of Averna.